The Year of the Horse Sale is a sale involving items that are recolors and stocked in the La Victoire, they can be purchasable using Gaia Cash.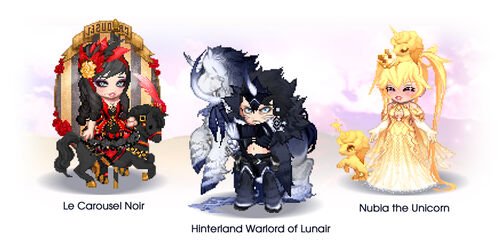 Listing Hinterland Warlord of Lunair - The Hinterland Warlord of Lunair is the unquestioned ruler of legend. Raised at an early age to be a great warrior he knows nothing better than the art of killing and yet all his people are devoted to him for his just rule. With his legendary equipment only the strongest raid group would dare challenge him in combat. Price: 599 Cash
Listing Le Carousel Noir - Let's ride and leave your troubles behind. Price: 299 Cash
Listing Nubia the Unicorn - Nubia's glittering horn guides you safely through the sweetest dream... Price: 499 Cash
Announcement

January 31, 2014
Announcements
Edit
 -
Ad blocker interference detected!
Wikia is a free-to-use site that makes money from advertising. We have a modified experience for viewers using ad blockers

Wikia is not accessible if you've made further modifications. Remove the custom ad blocker rule(s) and the page will load as expected.