The Wuxia Assassination is a Wuxia-theme set released on May 23, 2012, it is purchasable only with Gaia Cash or from other users via trades or the marketplace.
Wuxia Assassination Bundle

Description: Contains Deadly Ansha, Yinlong Warrior, Guang the Golden Qilin, and the exclusive Lotus of the Emperor.
Price: 999 Gaia Cash
Store: La Victoire
Gender: Any
Date first appeared on Gaia: May 2012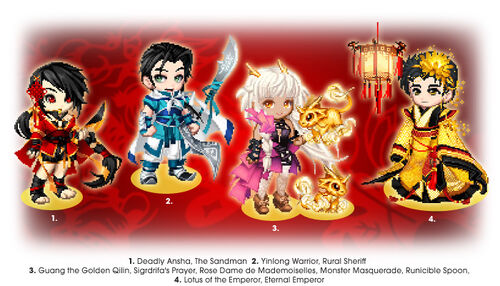 Wuxia Assassination Bundle
Lotus of the Emperor - The treasures of the emperor, stolen from the imperial palace. (exclusive item)
Deadly Ansha - A stealthy assassin as beautiful as she is deadly (499 Gaia Cash)
Yinlong Warrior - The young palace guard, confident in his weapons mastery and martial arts, has met an opponent who might be more than he can handle... (499 Gaia Cash)
Guang the Golden Qilin - They say that those who meet this legendary creature will be protected from danger in their journey ahead. (199 Gaia Cash)
External links
Edit
"
Good day! We've got a brand-new series of items on our shelves today, as well as the fantastic Wuxia Assassination Bundle that will give you all three plus an exclusive goodie. In fact, the goodie is so good we're inclined to refer to it as a hyper-goodie!




The Deadly Ansha is a silent assassin, ready to strike from the shadows with her honed agility. This time, she's been sent to slay the most powerful man in the kingdom. Includes her long black hair, knotted ornament, flowing red jacket, black fighter's top, gold-trimmed shorts, black bandages covering both arms and legs, and a special blade that's more than meets the eye.

A young palace guard, Yinlong Warrior is confident in his quick reflexes, superior martial arts skills, and unwavering loyalty. He's ready for battle with his enchanted pudao, black hair tied in white bandage, and trusty traveling cape. The set also includes his cloth armor shirt, white cuffed pants, and steel-plated shoes and arm guards. He waits for his opponent to show her face...

Statues of Guang the Golden Qilin line the Imperial Palace, but the real mystical beast watches over only one tonight. They say those who meet this legendary creature will be protected from danger in their journey ahead...

Get all three at once by purchasing the Wuxia Assassination Bundle, and you'll also receive the exclusive Lotus of the Emperor-- a gleaming array of hidden treasures that had been stolen from the palace, though nobody claims to have seen the culprit. Includes a golden lotus headdress with small matching lotus armband, rich golden brocade sash, and the lone lantern that lit up the golden halls of the emperor.


The first three items are available individually, of course, but it's recommended that you purchase them all at once in the Wuxia Assassination Bundle and get the hyper-goodie, Lotus of the Emperor. See you at the Cash Shop!

"
 
Ad blocker interference detected!
Wikia is a free-to-use site that makes money from advertising. We have a modified experience for viewers using ad blockers

Wikia is not accessible if you've made further modifications. Remove the custom ad blocker rule(s) and the page will load as expected.