The Wings Sale is a sale involving items that are normally obtained through Alchemy and later stocked in the La Victoire, they can be purchasable using Gaia Cash.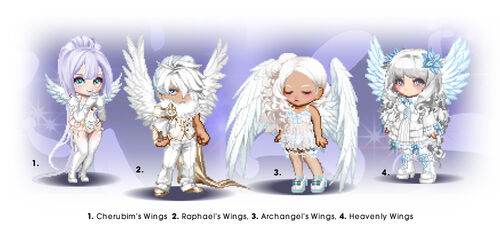 Announcement

December 25, 2013
External links
Edit
Announcement Wings sale in La Victoire! - [NPC] Jet & Cygnus Thu Dec 19, 2013 3:43 pm

Up up and away, Gaians! Or, y'know. I'd be saying that if I were capable of flying. As it is I'm stuck waddlin' around like everyone else, using my feet to do the walking like some kind of pleb. It's awful! Who came up with this walking stuff anyway? Isn't there a better alternative? Well, unfortunately, I'm kinda stuck on land here. But if you're interested in a pair of majestic wings to let you take to the skies, then I might be able to help you out!


It's a veritable explosion of feathers! Check it: we've got Michael's Wings, Archangel's Wings, Gabriel's Wings, Cherubim's Wings, Raphael's Wings, Seraphim's Wings, and the brand spankin' new Heavenly Wings! Wanna cuddle some clouds, Gaians? You totally can with these wings. Snuggle stars? Well, that's pushing it a little, but you can try. Punch that smug sun in his smug little face and show him who is boss? I don't think you can, even though he totally deserves it, but give it your best shot! Either way, you're gonna look pretty awesome with these gorgeous wings. So come to La Victoire and take a look! We'll be selling them until Midnight EST December 25th. Walk on over, flap your way out!

Visit La Victoire!
Ad blocker interference detected!
Wikia is a free-to-use site that makes money from advertising. We have a modified experience for viewers using ad blockers

Wikia is not accessible if you've made further modifications. Remove the custom ad blocker rule(s) and the page will load as expected.