Wii The People was a contest announced on November 14 2007, in which in the following thirty days, Gaians could win a Nintendo Wii by playing Daily Chance. It was a very rare reward to win an entry ticket, and ticket holders could fill in their details and have the chance to be picked in a daily Wii drawing.
Only residents of the USA and Canada (excluding Quebec) could win a Wii, for legal reasons that Gaia were unable to avoid. If a user received a ticket but wasn't in a eligible location, the ticket could be exchanged for a sum of Gaia Gold.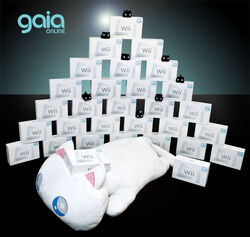 A few winners were announced December 11 2007. No other winners were announced, for reasons unknown.
November 14th - ninja of Persia
November 16th - Satochan
November 19th - Yuki_Sohma_Is_mine
November 20th - Luminairus
November 23rd - Mailly
November 25th - Shoeback The Pirate
External Links
Edit
Announcement: May 2012 Wii Giveaway Contest Starts Today!
Announcement: June 2012 Wii Giveaway Contest Starts Today! (May winners announced)
Ad blocker interference detected!
Wikia is a free-to-use site that makes money from advertising. We have a modified experience for viewers using ad blockers

Wikia is not accessible if you've made further modifications. Remove the custom ad blocker rule(s) and the page will load as expected.