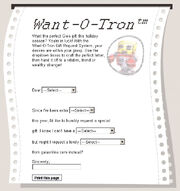 The Want-O-Tron ™ is a small feature released December 14, 2007 that enables Gaians to create a letter to print out to give to people requesting an item from the GStore, to 'transform your nebulous notions of wantage into cold, hard FACTS!'.
Want the perfect Gaia gift this holiday season? You're in luck! With the Want-O-Tron Gift Request System, your desires are within your grasp. Use the dropdown boxes to craft the perfect letter, then hand it off to a relative, friend or wealthy stranger!
Set up

1 Sir / Madam / Parent / Relative / Friend / Santa / Me / Imaginary Friend / Beloved Pet
2 good / nice / fancy / crispy / saucy / wonderful / tolerable
3 pony / flamethrower / huge box of money / stable upbringing / fist-sized diamond / private jet
4 OMG Monster hat / pair of Grunny slippers / Gaia Cash card / hoodie / KiKi Kitty plushie / t-shirt
Want Letter
Edit
Dear , ---Select1---
Since I've been extra ---Select2---
this year, I'd like to humbly request a special
gift. I know I can't have a ---Select3---,
but might I request a lovely ---Select4---
from gaiaonline.com instead?
Sincerely,
[_______]

[Print this page]
To fulfill my holiday wishes, visit www.gaiastore.com and order before December 18th.
---



Dec 14 News Update: The Want-O-Tron, New PJ Pants & December MCs! [1]

Happy Friday, Gaians! This is Cindy Donovinh with Gaia 9 Action News. The admins have another quick news update for you, so let's turn it over to them:

Gaia Gift Page and the Want-O-Tron

With the holidays rolling around, we've heard a lot of people say they're going to ask for some Gaia swag this season. The trouble is, Gaia gifts can be kind of hard to explain. We've heard your pleas, and we've created a couple of new pages that might help you achieve your holiday wishes:

The Gaia Gift Page: We've whipped up a little page you can show to your friends and family to help them get a clue about Gaia. It provides a quick, clear explanation of what Gaia is, how to securely purchase Gaia gifts online, and what kind of neat stuff we're selling for the holidays. It also makes us look really classy and reputable (which we secretly are!).

The Want-O-Tron: We know it can be difficult to figure out the right way to ask for a gift without sounding like a greedy little worm, so we've done all the hard work for you. The Want-O-Tron harnesses the awesome power of modern computing to create a classy, expertly-crafted letter that you can print out and give to your friends and family. This letter explains exactly what you want for the holidays without sounding like a big jerk about it. It's also perhaps the goofiest idea we've ever had, so please feel free to chuckle at its stupidity!

Enjoy! We hope that you get exactly what you want this holiday season, whether or not it has anything to do with Gaia heart

Visit the Gaia Gift Page




Try Out the Want-O-Tron
External links
Edit