The Vision du Cubisme is a -theme set released on January 3, 2012
Vision du Cubisme Bundle

Description: Choose between Pale Vision du Cubisme, Sienna Vision du Cubisme, Rose Vision du Cubisme, or Sky Vision du Cubisme
Price: 999 Gaia Cash
Store: La Victoire (formerly)
Gender: Any
Date first appeared on Gaia:
January
2012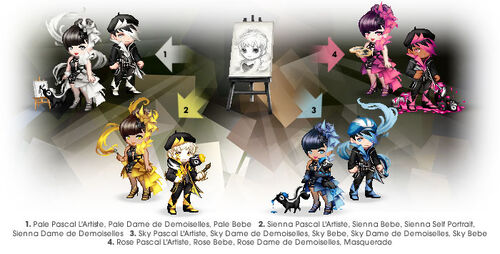 Vision du Cubisme

Pale Vision du Cubisme Bundle - Contains a bundle with Pale Dame de Demoiselles, Pale Pascal L'artiste, Pale Bebe, and Pale Self Portrait
Rose Vision du Cubisme Bundle - Contains a bundle with Rose Dame de Demoiselles, Rose Pascal L'artiste, Rose Bebe, and Rose Self Portrait
Sienna Vision du Cubisme Bundle - Contains a bundle with Sienna Dame de Demoiselles, Sienna Pascal L'artiste, Sienna Bebe, and Sienna Self Portrait
Sky Vision du Cubisme Bundle - Contains a bundle with Sky Dame de Demoiselles, Sky Pascal L'artiste, Sky Bebe, and Sky Self Portrait
Dame de Demoiselles - Graceful with a brush, the Dame uses her talents to express her passion for the arts!

Pale Dame de Demoiselles
Rose Dame de Demoiselles
Sienna Dame de Demoiselles
Sky Dame de Demoiselles
Pascal L'Artiste - Inspired by shapes and colors, Pascal is an artist with a style all his own.

Pale Pascal l'artiste
Rose Pascal l'artiste
Sienna Pascal l'artiste
Sky Pascal l'artiste
Bebe - A true artist isn't afraid to get their hands-- err.. tail dirty! Just ask Bebe-- the skunk with a talent for the arts!

Pale Bebe
Rose Bebe
Sienna Bebe
Sky Bebe
Self Portrait - Be the masterpiece!!

Pale Self Portrait
Rose Self Portrait
Sienna Self Portrait
Sky Self Portrait
External links
Edit
"
Rigel and I are devoted patrons of the arts, so we thought we'd inspire you with a bundle based on a revolutionary art movement that's still influential today. Step with us into the realm of the avant-garde:

Vision du Cubisme is inspired by a movement that revolutionized art as we know it. A select group of talented artists have come together to share their love for this historical genre through their paintings, as well as their unique sense of style and fashion! Express yourself with one of the four colored bundles-- Rose Vision du Cubisme, Sienna Vision du Cubisme, Sky Vision du Cubisme and Pale Vision du Cubisme. The bundle of your choice will include:

Dame de Demoiselles is known for making such powerful art that some say her brush has a life of its own! Includes a hat, wig, face, dress, stockings, shoes, and paint brush.

Pascal L'Artiste is a young aspiring artist of many talents whose art will someday inspire future generations! Includes a beret, wig, face, vested jacket, artist belt, pants.

Bebe is living proof that you don't need hands to make art! This spunky little skunk is ready to show off her artistic talents to the world.

Self Portrait includes a canvas frame, sketch skin, and sketch hair.

Unleash your inner artist with this bundle, now in the Cash Shop!

"
 
Ad blocker interference detected!
Wikia is a free-to-use site that makes money from advertising. We have a modified experience for viewers using ad blockers

Wikia is not accessible if you've made further modifications. Remove the custom ad blocker rule(s) and the page will load as expected.