Valentines 2k9 is an event that started on February 13th, 2009.
Event Information
Edit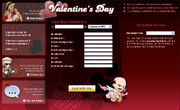 In the Valentine 2k9 event, Gaians can send Valentine messages to other Gaians. The messages functions like a Mad Lib and the Gaian is unable to see the message until he or she send the message to another Gaian. Gaians are also able to accept or reject Valentine messages. Gaians are also allowed to send Valentines to NPCs. However, some NPCs follow strict guidelines on accepting Valentines from Gaians. The reward for meeting the Valentine acceptance criteria rewards the Gaian a photo of the NPC they could put in their signature. However, there is actually an universal URL to the NPC photos and it is not required for the Gaian to have the photo item itself in order use the photo. NOTE: Gaians were not required to fill in the blanks in order to receive a Valentine reward from an NPC.
Because of the strict criteria, Gaians are unable to receive every single photo unless if they have mules. The Gaian can receive the following photos:
V-Day 2k9 Chocolate: Nothing is better than the rich, savory taste of chocolate.. and now, you embody that exquisite flavor! (Having a Valentine message accepted)
V-Day 2k9 Heart Lollipop: This is a deliciously sweet heart for your sweetheart! (Receiving a Valentine)
Devin and Vanessa are the only two photos to have a hot dog in them.
External Links
Edit
Ad blocker interference detected!
Wikia is a free-to-use site that makes money from advertising. We have a modified experience for viewers using ad blockers

Wikia is not accessible if you've made further modifications. Remove the custom ad blocker rule(s) and the page will load as expected.