Valentines 2k6 was the Valentines Day event for 2006, as well as the first Valentines Day event to happen in the Gaia storyline.
This manga starts with Liam asking Moira to be his Valentine. He was holding expensive pendent that he was requested to put back. Gino comes in and buys the most expensive item. Meanwhile at the Hospital, since Verdict, Ian still remains in critical condition from the shot at the Durem Courthouse. Then there as flashback at the beach with Ian and Sasha. Sasha enters the room and Ian gives Sasha the Diamond Seashell he found. Gino enters the room with a giftbox in his hand and he was angry when he saw Sasha beside Ian's bed.
Meanwhile Cindy Donovinh was investigating on what happen at the verdict. Will we ever find out the truth? To be continued
Event Information
Edit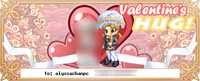 In this event, Gaians were able to send kisses or hugs with a message to other Gaians if they wish. Once they are sent, the one who recieves it gets notified and he/she could save the image to the hard drive as long as they logged on before the event was over.
Ad blocker interference detected!
Wikia is a free-to-use site that makes money from advertising. We have a modified experience for viewers using ad blockers

Wikia is not accessible if you've made further modifications. Remove the custom ad blocker rule(s) and the page will load as expected.