Introduction
Edit
The even involved sending Mad Libs: Valentines to other Gaians in order to gain candy hearts, when enough hearts were gathered they could be redeemed for prizes. There were three items in total, continuing to redeem would result in gold as a prize. Also by sending and receiving a certain amount of Valentines, it resulted in earning achievement badges.
How to play
Edit
Send valentines to others using our patent-pending Valentine's madlib generator on this page or in the event forum to grab an achievement.
Select a friend or enter a username, choose a candy heart message, then add your custom words or hit the "Randomize" button.
Send the Valentine as yourself or choose to send it anonymously and remain a secret admirer.
Each valentine you receive gives you 1 candy heart. Collect the hearts to redeem for exclusive items, gold, and an achievement!
Log on every day to click the highlighted year in the chocolate box for an exclusive chocolate and item. Collect them all for an exclusive prize!
Landing page
Edit
Top of page
For the Love of Gaia Online with Wing Sticker
Middle of page
Box of Chocolates - when hovering over wrapper
Grab your exclusive 20xx item and chocolate!
Grab your special prize for collecting all 10 anniversary chocolates!
How to Play
Ten Sweet Years
Welcome to our 2013 Valentine's Day celebration! Feeling flirtatious? You can translate your romantic urges into sensuous prefab poetry with our automatic Valentine creator, or collect candy hearts to trade in for exclusive items.
We're also spreading the love to another major milestone: Gaia turns 10 years old this month! To celebrate, we'll be giving away special anniversary items every day--grab them from the box of chocolates above.
Right side of page
Candy Hearts
Candy heart meter
Collect more candy hearts to claim an exclusive event item or gold!
[Redeem Hearts]

User Stats
Valentines Sent #
Hearts Collected #

Send Valentine
Create customized cards for friends, crushes, significant others or attractive strangers!
[Send Valentine]

Forums
Share anniversary memories, participate in our 10th Anniversary Ball, or create Valentine's chatter!
[Visit Forums]
Candy Heart checklist
Edit
I <3 CATS
BLING
GIMME LOVE
U R SVALR
*GRUNTS*
FLY U 2 THE MOON
*WINK*
DID U KNOW
LOVE BOSS
LOOTS
MY CAT IS DYING
FILE UR TAXES
TOO SWEET
PART-TIME
SWEET ABS
BUB
MI AMORE
DRAMA LLAMA
DERE DERE
GET REAL
$$$$
LICK ME
I LIEK DUCKS
UR A BUTT
TEE HEE HEE
WHY NOT
FISHIES
LETS RIDE
<3 EVERY BOY
YOU + ME
GO HOME
OwO
CALL ME
MEW
Go Gaia landing page
Edit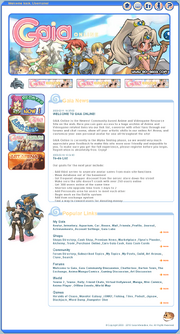 This is the text content that was presented on the Go Gaia frame page.
Top of page
Welcome back, Username! - Five icons - House / Book / Two figures / Avatar / Question mark
Gaia Online banner with NPC artwork, www.Go-Gaia.com to the lower right.
Rock Puppy and Three register to Gaia Online banners - when clicked a user could receive 100 Gaia Gold
Right side of page

Gaia News
2003-02-11 16:35:00
WELCOME TO GAIA ONLINE!
GAIA Online is the Newest Community-based Anime and Videogame Resource Site on the web. Here you can gain access to a huge archive of Anime and Videogame related links via our link list, converse with other fans through our forums and chat rooms, show off your artistic skills in our online Art Arena, and customize your own personal avatar for use all throughout the site!
GAIA Online is currently in the Alpha Testing phase, so we would very much appreciate your feedback to make this site more user friendly and enjoyable to you. To make sure you get the full experience, please register before you begin. Registration is absolutely free. Enjoy!
2003-02-18 13:24:00
To-do List
Our goals for the next year include:
- Add third server to seperate avatar saves from main site functions
- Move database out of the basement
- Get frequent shopper discount from the server store down the street
- Make sure the site doesn't crash with over 250 users online
- Get 300 users online at the same time
- Shorten site upgrade time from 3 days to 2
- Add Personals area for users to meet each other
- Begin work on the Battle system
- Add item exchange system
- Find a way to reward users for donating money
Popular Links
My Gaia
Avatar, Inventory, Aquarium, Car, House, Mail, Friends, Profile, Journal, Achievements, Account Settings, Gaia Labs → more
Shops
Shops Directory, Cash Shop, Premium Items, Marketplace, Flynn's Plunder, Alchemy, Trade, Purchase Online, Ear Gaia Cash, Gaia Cash Cards → more
Community
Forum Directory, Subscribed Topics, My Topics, My Posts, Guild, Art Arenas, Clans, Search → more
Forums
Welcome to Gaia, Gaia Community Discussion, Chatterbox, Barton Town, The Exchange, Anime/Manga/Comics, Gaming Discussion, Art Discussion → more
World
Towns 2, Towns, Rally, Friends Chats, Virtual Hollywood, Manga, Mini-Comics, Anime Player, Offline Events, World Map → more
Games
Heralds of Chaos, Monster Galaxy, zOMG!, Fishing, Tiles, Pinball, Jigsaw, Blackjack, Word Bump, Dumpster Dive → more
Left side of page
Register Now! / Gaia Link List / Gaia Forum / Art Arena
Below was a female and male NPC
Bottom of page
Copyright 2003 - 2013 Gaia Interactive, Inc. All Rights Reserved. with Moobie in the corner
Assorted text
Edit
Go Gaia errors
When clicking to register
Oops! / You are already registered on Gaia. If you are not the current user, please log out and try again. / If you are not redirected within a few seconds, click here.
Critical Error / Could not connect to the braaaaiiiiiiiinnnnssssss database / Please try again later. Sorry for the inconvience.
General errors
You can't send a valentine to yourself!
Failed to send valentine, Please try again. / Prevent this page from creationg additional dialogs
You have reached the maximum number of grants.
Failed to grant candy, please try again
Background
Blank How to play
button 1
2
3
4
5
How to play
Visit forum
Forum header
Forum
Send valentine button
Mad Lib example
Blank Mad Lib
Randomize
Send Anonymously
Cancel
Submit
Candy Heart checklist
Candy Heart meter
counter
Redeem Hearts
Item grant, gold
Okay
Receiving Valentine
Opening Valentine
Ad blocker interference detected!
Wikia is a free-to-use site that makes money from advertising. We have a modified experience for viewers using ad blockers

Wikia is not accessible if you've made further modifications. Remove the custom ad blocker rule(s) and the page will load as expected.