The Valentines 2k10 (aka Valentine's Day '10) event started on February 09, 2010.
Spread Some Love! Send goofy love notes to friends and frightened strangers. Valentine's Day mad libs are back!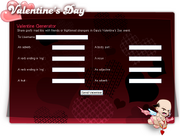 Event Beginning
Edit
An announcement by Liam was made, and he directed Gaians to the floating punchy cupid (named Carl) who would deliver mad lib notes to a specified Gaian once the lib was filled out. The mad lib would change its options with every click, so no message set up was the same way twice.
Announcements
Edit
Feb 9: Valentine's Day '10: Spread Some Love [1]
Sup? Valentine's Day is comin' up, which means lots of sappy stuff and some fast and furious romancing. If you're like me, you have trouble putting all your romantic thoughts into words that are appropriate, and, you know, not totally mind-blowing to girls. That's why they rigged up an automatic generator to help you compose love notes for that special dude or lady-- or anyone else, if you wanna play the field.
To get started, just click that surly cupid guy in the header. After that, all you have to do is think up a few romantic words and put in a name. The little username box will autofill with names from your friends list, so just start typing and see what happens.
Oh, and since Valentine's Day can be a real bummer if you don't have a special sweetheart, be sure to send some pity notes to your friends.
Let's get this love thing happening, dudes! Like I said, just click the surly cupid in the header.
Since his early appearances Carl the Cupid shared his name with another character named Carl, and that is Carl the Elk. However, in February 2011 the Love Charm II CI was released, and an SDPlus of a hairy cupid appeared named Earl, with this, it is apparent that Carl is now referred to as Earl the Cupid.
The two cupids in the banner have been seen in a few of Gaia events over its years, such as the Rejected Olympics.
The more toddler looking cupid has a counterpart who is a companion in the Evolving Item called Diapered Egg, the hair of that cupid is light pink.
Ad blocker interference detected!
Wikia is a free-to-use site that makes money from advertising. We have a modified experience for viewers using ad blockers

Wikia is not accessible if you've made further modifications. Remove the custom ad blocker rule(s) and the page will load as expected.