Toy Chest Sale is a sale involving items that are obtainable through Chance Item containers and later stocked in the La Victoire, they can be purchasable using Gaia Cash.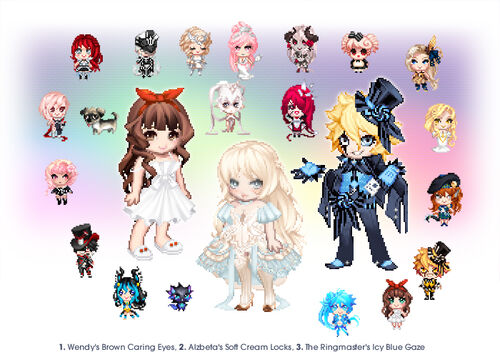 Listing Dark Toy Chest Bundle - Price: 2500 Cash
Listing Gallant Toy Chest Bundle - Price: 3000 Cash
Listing Lovely Toy Chest Bundle - Price: 3000 Cash
Announcement

December 23, 2013
External links
Edit
Announcement Toy Chest Sale in La Victoire! - [NPC] Jet & Cygnus Fri Dec 20, 2013 1:57 pm

Gaians, we've got a bit of a problem. Cygnus is kind of a... collector, right? Well, not kind of. He is a collector. A CREEPY collector. The dude collects dolls, okay? He says they're "action figures" or whatever but I know the truth. Anyway, our house is just full of 'em. Hundreds. Thousands? Maybe. But they keep staring at me with their dead little eyes and I just can't take it anymore. So we're gonna be selling a bunch of 'em here in La Victoire to get rid of a few of them. And by "we" I mean "me" because Cygnus doesn't know about this, and we're gonna keep it that way, okay? Look at how many of these things the guy has!

Wait, hang on... I got a list somewhere with all the names. Lemme see if I can find it... Aha! Here it is:

• SDPlus #346 Thea the Unicorn Spirit
• SDPlus #377 Frankie
• SDPlus #272 Majoko Mariko
• SDPlus #408 Bloody Mary
• SDPlus #362 Fallen Star
• SDPlus #325 Wendy
• SDPlus #220 The Ringmaster
• SDPlus #412 Nessie
• SDPlus #371 Lady Luck
• SDPlus #351 Mad Hatter
• SDPlus #380 The Hazmats Butterfly
• SDPlus #463 Arc
• SDPlus #310 Lady Alzbeta
• SDPlus #348 Jabberwock
• SDPlus #364 Sainte Ciel
• SDPlus #354 Cassiopeia
• SDPlus #474 Primrose
• SDPlus #118 Jet
• SDPlus #328 Little Lucie
• SDPlus #425 Dyrfinna the All-Wise


How weird is it that he has a doll of me? Man. I'd be flattered, but I'm more just creeped out. Anyway, for those of you looking to get into the collection game yourself, we're also gonna be selling a couple of bundles. We've got the Lovely Toy Chest Bundle for all you dainty dames, the Dark Toy Chest Bundle for those of you feelin' a little more wicked, and the Gallant Toy Chest Bundle for those lookin' for something a little more masculine. Each of these bundles contains a brand new SDPlus accessory recolor, too, so you gotta check 'em out! We're gonna have this massive Toy Chest sale from today until Midnight EST December 25th, so make sure you stop by and take a look. We gotta help Cygnus with his addiction somehow, guys!

Visit La Victoire!
Ad blocker interference detected!
Wikia is a free-to-use site that makes money from advertising. We have a modified experience for viewers using ad blockers

Wikia is not accessible if you've made further modifications. Remove the custom ad blocker rule(s) and the page will load as expected.