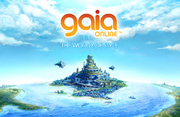 The World of Style is a Welcome page that Gaians and new members see when they sign into the site. It arrived on Gaia around November 16, 2010. Along with it came a new registry page a story done in Flash format that guides new Members into the Gaia World.
The World of Style
Edit
Introduction:
Seatbelts on, ladies and gentlemen! We're now making our final approach toward Gaia.
Looks like it'll be a smooth landing. We've got sunny skies, light tailwind and no sign of any sudden, explosive catastrophes.
Flight Attendant:
Looking good is very important on Gaia. I'd better change into something a little more exciting.
Now, if you'll excuse me.
(Flight Attendant changes into casual attire)
There are a lot of creative people here... you can't expect to get noticed without a unique look!
(A loud roar is heard)
What the... oh, s&*%#! DRAGON!
(Dragon blasts the airplane with fire)
(Parachuting down)
Don't worry, this happens all the time. Everything's going to be just fine...
(Burning body falls)
You'll land pretty close to Barton Town! See you there!
(Flight Attendant parachutes away)
(A gray cat falls on parachute top)
Bob the Cat:
Whoa! Thanks for breaking my fall.
Oh, by the way, I'm Bob, and I...... Uh oh...
(Now on the ground)
Bob the Cat:
Whew, that was a close one! Let's get outta here.
I can't be cooped up! Cats need freedom!
Great... the gate has a lock. We're stuck!
(Clothing lands on the ground)
Ooh! Some clothes fell from the plane!
(Click clothes to dress up your avatar)
Hey, you've got 100 points now!
You just leveled up! Try opening the gate.
(Walks through gate)
Come on, let's get to Barton Town... it's just ahead.
Bob the Cat:
So, you're new here, right? One nice thing about Gaia is that money grows on trees. Give 'em a shake!
(Shake trees)
See that? You got some Gold!
Try voting in a poll-- people around here will pay good money for your opinion. It's a great way to net a little more Gold.
Girl in Yellow:
Which is the superior animal?
[Submit Vote]
Bob the Cat:
Obviously! Cats don't eat poo and roll around in dead gophers.
(Outside the walls of Barton Town)
We're almost to Barton... let's head over to that Gate!
(At the Gate)
Leon:
Sorry, kid! We can't let you into Barton dressed like that. You'd better work on your look.
Bob the Cat:
They're pretty hardcore about style here...
Businessman:
(Businessman offers some new accessories)
(Click on clothes to buy them)
[Done]
Bob the Cat:
We can now enter Barton.
We're in! Thanks, pal! Now, if you'll excuse me, I've got a date...
(CONGRAZZLES!)
Welcome to Gaia Online!
[Go on and Explore!]
This is the first Login Screen to display Gaia and landmass.
This was said to be created to get back to Gaia's fantasy roots a bit.
A unique registry flash story was created to guide Newbies through the basic Gaia's features.
During the parachuting descent, Lanzer (the creator of Gaia Online™) can be seen in the background, parachuting as well.
Bob the Cat is the third talking feline to be known within Gaia.
The overview Map:Barton Town displays its connection go the zOMG! World.
The MAN companion, Businessman, is standing outside the walls. Tagged as "creepy" in the Marketplace search the MAN companion is released from various Chance Items.
Congrazzles is a made up slang term for "Congratulations", used among Gaia Staff.
Some Gaians felt that the new slogan did not reflect Gaia very well.
External links
Edit
Ad blocker interference detected!
Wikia is a free-to-use site that makes money from advertising. We have a modified experience for viewers using ad blockers

Wikia is not accessible if you've made further modifications. Remove the custom ad blocker rule(s) and the page will load as expected.