Ad blocker interference detected!
Wikia is a free-to-use site that makes money from advertising. We have a modified experience for viewers using ad blockers

Wikia is not accessible if you've made further modifications. Remove the custom ad blocker rule(s) and the page will load as expected.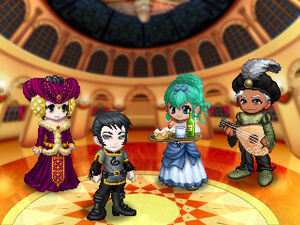 Tavern Wench is a set of items released as part of a Medieval item update.
Maple Tavern Wench's Wooden Tray: From a bottle of the tavern's finest apple cider to a whole roast chicken; this sturdy wooden tray holds it all! (300 Gold)
Maple Tavern Wench's Apple Cider Tray: From a bottle of the tavern's finest apple cider to a whole roast chicken; this sturdy wooden tray holds it all! (3,000 Gold)
Maple Tavern Wench's Bread And Cheese Tray: From a bottle of the tavern's finest apple cider to a whole roast chicken; this sturdy wooden tray holds it all! (1,800 Gold)
Maple Tavern Wench's Fish Tray: From a bottle of the tavern's finest apple cider to a whole roast chicken; this sturdy wooden tray holds it all! (2,100 Gold)
Maple Tavern Wench's Honey Cake Tray: From a bottle of the tavern's finest apple cider to a whole roast chicken; this sturdy wooden tray holds it all! (2,700 Gold)
Maple Tavern Wench's Roasted Chicken Tray: From a bottle of the tavern's finest apple cider to a whole roast chicken; this sturdy wooden tray holds it all! (2,400 Gold)
Berry Tavern Wench's Bustier: Wear it over a blouse for that medieval layered look or wear it alone if you're feeling daring. (2,100 Gold)
Coal Tavern Wench's Bustier: Wear it over a blouse for that medieval layered look or wear it alone if you're feeling daring. (2,100 Gold)
Indigo Tavern Wench's Bustier: Wear it over a blouse for that medieval layered look or wear it alone if you're feeling daring. (2,100 Gold)
Leafy Tavern Wench's Bustier: Wear it over a blouse for that medieval layered look or wear it alone if you're feeling daring. (2,100 Gold)
Leather Tavern Wench's Bustier: Wear it over a blouse for that medieval layered look or wear it alone if you're feeling daring. (2,100 Gold)
Wine Tavern Wench's Bustier: Wear it over a blouse for that medieval layered look or wear it alone if you're feeling daring. (2,100 Gold)
Woolen Tavern Wench's Bustier: Wear it over a blouse for that medieval layered look or wear it alone if you're feeling daring. (2,100 Gold)
Berry Tavern Wench's Cincher: Pull the laces too tight and breathing will no longer be a cinch! (1,800 Gold)
Coal Tavern Wench's Cincher: Pull the laces too tight and breathing will no longer be a cinch! (1,800 Gold)
Indigo Tavern Wench's Cincher: Pull the laces too tight and breathing will no longer be a cinch! (1,800 Gold)
Leafy Tavern Wench's Cincher: Pull the laces too tight and breathing will no longer be a cinch! (1,800 Gold)
Leather Tavern Wench's Cincher: Pull the laces too tight and breathing will no longer be a cinch! (1,800 Gold)
Wine Tavern Wench's Cincher: Pull the laces too tight and breathing will no longer be a cinch! (1,800 Gold)
Woolen Tavern Wench's Cincher: Pull the laces too tight and breathing will no longer be a cinch! (1,800 Gold)
Clean White Tavern Wench's Blouse: Ye olde utilitarian blouse. Fitted enough that it doesn't flap around but loose enough that you can work comfortably. (2,880 Gold)
Coal Black Tavern Wench's Blouse: Ye olde utilitarian blouse. Fitted enough that it doesn't flap around but loose enough that you can work comfortably. (2,880 Gold)
Creamy Brown Tavern Wench's Blouse: Ye olde utilitarian blouse. Fitted enough that it doesn't flap around but loose enough that you can work comfortably. (2,880 Gold)
Sky Blue Tavern Wench's Blouse: Ye olde utilitarian blouse. Fitted enough that it doesn't flap around but loose enough that you can work comfortably. (2,880 Gold)
Clean White Tavern Wench's Skirt: Hearken well unto my words! Woe to he who behaves badly towards tavern staff, for he shall fall victim to the dreaded Spit Cider and Sneeze Stew. (3,300 Gold)
Coal Black Tavern Wench's Skirt: Hearken well unto my words! Woe to he who behaves badly towards tavern staff, for he shall fall victim to the dreaded Spit Cider and Sneeze Stew. (3,300 Gold)
Creamy Brown Tavern Wench's Skirt: Hearken well unto my words! Woe to he who behaves badly towards tavern staff, for he shall fall victim to the dreaded Spit Cider and Sneeze Stew. (3,300 Gold)
Sky Blue Tavern Wench's Skirt: Hearken well unto my words! Woe to he who behaves badly towards tavern staff, for he shall fall victim to the dreaded Spit Cider and Sneeze Stew. (3,300 Gold)
Berry Brown Gathered Tavern Wench's Skirt: Hearken well unto my words! Woe to he who behaves badly towards tavern staff, for he shall fall victim to the dreaded Spit Cider and Sneeze Stew. (3,900 Gold)
Berry Coal Gathered Tavern Wench's Skirt: Hearken well unto my words! Woe to he who behaves badly towards tavern staff, for he shall fall victim to the dreaded Spit Cider and Sneeze Stew. (3,900 Gold)
Berry Sky Gathered Tavern Wench's Skirt: Hearken well unto my words! Woe to he who behaves badly towards tavern staff, for he shall fall victim to the dreaded Spit Cider and Sneeze Stew. (3,900 Gold)
Berry White Gathered Tavern Wench's Skirt: Hearken well unto my words! Woe to he who behaves badly towards tavern staff, for he shall fall victim to the dreaded Spit Cider and Sneeze Stew. (3,900 Gold)
Coal Brown Gathered Tavern Wench's Skirt: Hearken well unto my words! Woe to he who behaves badly towards tavern staff, for he shall fall victim to the dreaded Spit Cider and Sneeze Stew. (3,900 Gold)
Black Coal Gathered Tavern Wench's Skirt: Hearken well unto my words! Woe to he who behaves badly towards tavern staff, for he shall fall victim to the dreaded Spit Cider and Sneeze Stew. (3,900 Gold)
Coal Sky Gathered Tavern Wench's Skirt: Hearken well unto my words! Woe to he who behaves badly towards tavern staff, for he shall fall victim to the dreaded Spit Cider and Sneeze Stew. (3,900 Gold)
Coal White Gathered Tavern Wench's Skirt: Hearken well unto my words! Woe to he who behaves badly towards tavern staff, for he shall fall victim to the dreaded Spit Cider and Sneeze Stew. (3,900 Gold)
Indigo Brown Gathered Tavern Wench's Skirt: Hearken well unto my words! Woe to he who behaves badly towards tavern staff, for he shall fall victim to the dreaded Spit Cider and Sneeze Stew. (3,900 Gold)
Indigo Coal Gathered Tavern Wench's Skirt: Hearken well unto my words! Woe to he who behaves badly towards tavern staff, for he shall fall victim to the dreaded Spit Cider and Sneeze Stew. (3,900 Gold)
Indigo Sky Gathered Tavern Wench's Skirt: Hearken well unto my words! Woe to he who behaves badly towards tavern staff, for he shall fall victim to the dreaded Spit Cider and Sneeze Stew. (3,900 Gold)
Indigo White Gathered Tavern Wench's Skirt: Hearken well unto my words! Woe to he who behaves badly towards tavern staff, for he shall fall victim to the dreaded Spit Cider and Sneeze Stew. (3,900 Gold)
Leafy Brown Gathered Tavern Wench's Skirt: Hearken well unto my words! Woe to he who behaves badly towards tavern staff, for he shall fall victim to the dreaded Spit Cider and Sneeze Stew. (3,900 Gold)
Leafy Coal Gathered Tavern Wench's Skirt: Hearken well unto my words! Woe to he who behaves badly towards tavern staff, for he shall fall victim to the dreaded Spit Cider and Sneeze Stew. (3,900 Gold)
Leafy Sky Gathered Tavern Wench's Skirt: Hearken well unto my words! Woe to he who behaves badly towards tavern staff, for he shall fall victim to the dreaded Spit Cider and Sneeze Stew. (3,900 Gold)
Leafy White Gathered Tavern Wench's Skirt: Hearken well unto my words! Woe to he who behaves badly towards tavern staff, for he shall fall victim to the dreaded Spit Cider and Sneeze Stew. (3,900 Gold)
Leather Brown Gathered Tavern Wench's Skirt: Hearken well unto my words! Woe to he who behaves badly towards tavern staff, for he shall fall victim to the dreaded Spit Cider and Sneeze Stew. (3,900 Gold)
Leather Coal Gathered Tavern Wench's Skirt: Hearken well unto my words! Woe to he who behaves badly towards tavern staff, for he shall fall victim to the dreaded Spit Cider and Sneeze Stew. (3,900 Gold)
Leather Sky Gathered Tavern Wench's Skirt: Hearken well unto my words! Woe to he who behaves badly towards tavern staff, for he shall fall victim to the dreaded Spit Cider and Sneeze Stew. (3,900 Gold)
Leather White Gathered Tavern Wench's Skirt: Hearken well unto my words! Woe to he who behaves badly towards tavern staff, for he shall fall victim to the dreaded Spit Cider and Sneeze Stew. (3,900 Gold)
Wine Brown Gathered Tavern Wench's Skirt: Hearken well unto my words! Woe to he who behaves badly towards tavern staff, for he shall fall victim to the dreaded Spit Cider and Sneeze Stew. (3,900 Gold)
Wine Coal Gathered Tavern Wench's Skirt: Hearken well unto my words! Woe to he who behaves badly towards tavern staff, for he shall fall victim to the dreaded Spit Cider and Sneeze Stew. (3,900 Gold)
Wine Sky Gathered Tavern Wench's Skirt: Hearken well unto my words! Woe to he who behaves badly towards tavern staff, for he shall fall victim to the dreaded Spit Cider and Sneeze Stew. (3,900 Gold)
Wine White Gathered Tavern Wench's Skirt: Hearken well unto my words! Woe to he who behaves badly towards tavern staff, for he shall fall victim to the dreaded Spit Cider and Sneeze Stew. (3,900 Gold)
Woolen Brown Gathered Tavern Wench's Skirt: Hearken well unto my words! Woe to he who behaves badly towards tavern staff, for he shall fall victim to the dreaded Spit Cider and Sneeze Stew. (3,900 Gold)
Woolen Coal Gathered Tavern Wench's Skirt: Hearken well unto my words! Woe to he who behaves badly towards tavern staff, for he shall fall victim to the dreaded Spit Cider and Sneeze Stew. (3,900 Gold)
Woolen Sky Gathered Tavern Wench's Skirt: Hearken well unto my words! Woe to he who behaves badly towards tavern staff, for he shall fall victim to the dreaded Spit Cider and Sneeze Stew. (3,900 Gold)
Woolen White Gathered Tavern Wench's Skirt: Hearken well unto my words! Woe to he who behaves badly towards tavern staff, for he shall fall victim to the dreaded Spit Cider and Sneeze Stew. (3,900 Gold)
Maple Tavern Wench's Wooden Shoes: These shoes are guaranteed to save you money on shoe leather! Warning: Retailer is not responsible for crippling pain or chronic splinters resulting in wearing these shoes. (1,500 Gold)
Oak Tavern Wench's Wooden Shoes: These shoes are guaranteed to save you money on shoe leather! Warning: Retailer is not responsible for crippling pain or chronic splinters resulting in wearing these shoes. (1,500 Gold)
Walnut Tavern Wench's Wooden Shoes: These shoes are guaranteed to save you money on shoe leather! Warning: Retailer is not responsible for crippling pain or chronic splinters resulting in wearing these shoes. (1,500 Gold)
External Links
Edit