The Streetpunk Karak is a set released on June 20, 2012, it is purchasable only with Gaia Cash or from other users via trades or the marketplace.
Streetpunk Karak Bundle

Description: Includes ICHI-maru-KYUU, Kiken Rider, Chase the Painted Bandit, and the exclusive Rakugaki Style.
Price: 999 Gaia Cash
Store: La Victoire
Gender: Any
Date first appeared on Gaia:
June
2012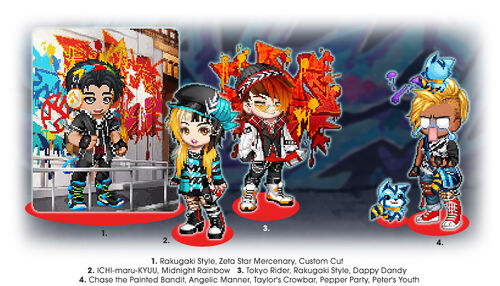 Karugaki Style - Which way out of this in this urban jungle? I can't get caught with all this spray paint!! (exclusive item)
Kiken Rider - This thug is not the first person you'd like to meet in a dark alley! Even if he is awfully stylish.... (499 Gaia Cash)
ICHI-maru-KYUU - What a street fashion statement! With all these arrows, where do I look? (499 Gaia Cash)
Chase the Painted Bandit - Don't turn around, 'cause this little bandit will cover your stuff with paint! (199 Gaia Cash)
External links
Edit
"
Something Rigel and I have learned from having an air hockey table is that street kids really enjoy playing air hockey. The loud noises and occasional machismo aren't much to our personal liking, but they don't seem to ever get enough. Every now and then a brawl will break out between the rougher types, but despite the rare unpleasantness, this situation comes in handy quite a bit when doing research on items for a new bundle inspired by street fashions-- the Streetpunk Karak Bundle!

The Kiken Rider is a mysterious young man seen in the subways car beneath the broken light, silently thinking about what place he's going to tag up next. Set includes a stylish jacket, red highlight hair, black beanie, orange-tinted glasses, leather vest and bright red shirt, tight grunge pants decorated with chain and zippers, and a pair of comfortable sneakers for a quick getaway.

Fashionable yet hardcore, ICHI-maru-KYUU is that attractive girl walking the streets that can only be admired from afar because you're too intimidated to approach her! Look the part with her beret, striped off-the-shoulder shirtdress, tri-colored hair, one shoulder bag with red arrow design, ripped leopard tights, heels, and daring arrow tattoos.

You won't catch this little guy in the act! Chase the Painted Bandit scours the streets in the middle of the night and tags up everything he can find. Don't blink, or he might just paint on your head too!

Grab all three of the above items all at once by buying the Streetpunk Karak Bundle, and you'll receive the exclusive Karugaki Style!


They look great, don't they? We truly couldn't have done it without this air hockey table and rumpus room. I suppose one detrimental thing is how after Rigel and I retire for regenerative stasis for the evening, sometimes the street folks remain upstairs in the rumpus room for a bit. We'll come up the next morning and they're usually gone-- maybe one or two will be asleep under the table-- and the entire rumpus room smells like regurgitated malt beverages. Indeed, it might be necessary to lock the rumpus room in the evenings.

In any case, come check out our shop, La Victoire, where you can try on the new items and even purchase them! We hope to see you there!

"
 
Ad blocker interference detected!
Wikia is a free-to-use site that makes money from advertising. We have a modified experience for viewers using ad blockers

Wikia is not accessible if you've made further modifications. Remove the custom ad blocker rule(s) and the page will load as expected.