The Sprightly Seasons is a set released on January , 2011
Sprightly Seasons Bundle

Description: Sprightly Seasons Bundle comes with Summer Gardener, Spring Wanderer, Fall Artist, Winter Dancer and the exclusive Fairies Abode!!
Price: 1299 Gaia Cash
Store: La Victoire (formerly)
Gender: Any
Date first appeared on Gaia:
January
2011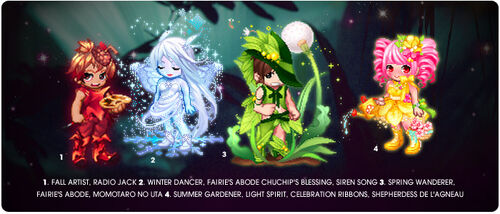 Fairies Abode - Where the season's helpers can be found... (exclusive item)
External links
Edit
"
As cosmic beings, Rigel and I are constantly fascinated by your world's beautiful cycle of seasons. I find myself calmed by the chill of winter, while Rigel enjoys the exciting changes of autumn-- but no matter your favorite time of year, you'll find it lovingly captured by these new items, each bringing a different season's fairy ambassador.

The Winter Dancer brings the frosty elegance of a clear winter night. Includes a beautiful icy gown, shimmering fairy wings and a gorgeous new hairstyle.

The Spring Wanderer includes a fanciful leafy getup, perfect for a jaunt through a warm glade. Includes a shirt, pants, boots and a cap, plus wings made of bright green leaves.

The Fall Artist strives to capture autumn's beauty on canvas. His tunic, boots and trousers are made of fallen leaves; also includes a lovely leafy wig.

The Summer Gardener decks herself out in an adorable yellow ribbon and clothes made of fragrant, fresh-picked petals. Most distinctive is a bright, curly wig the color of the brightest pink carnations.

The Sprightly Seasons Bundle contains each of the items mentioned above, plus an exclusive bonus item: the Fairies Abode.

You can visit us now in the Cash Shop to grab these items for yourself or a friend!

"
 
Ad blocker interference detected!
Wikia is a free-to-use site that makes money from advertising. We have a modified experience for viewers using ad blockers

Wikia is not accessible if you've made further modifications. Remove the custom ad blocker rule(s) and the page will load as expected.