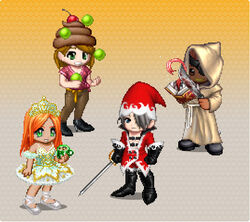 Santa Baby is a set of items released during the holiday items update of November 2007, at the same time as the Gaia Garage Sale.
Santa Baby Cap: A slick, handsome interpretation of Santa's cap to top off the ensemble. (7,500 Gold)
Santa Baby Coat: A sleek coat with a sexy cut, for a more youthful Santa. I'd sit on this guy's lap and tell him what I'd like, if ya know what I mean >:D (12,000 Gold)
Santa Baby Leggings: Nearly sheer and skin tight... only real men can pull off these things. (4,080 Gold)
Santa Baby Boots: High leather boots, cut especially to frame some of a man's most important assets. (5,700 Gold)
Accessories
Edit
Santa Baby Gloves: What he wears on his hands isn't nearly so impressive as what he does with them. (5,400 Gold)
External Links
Edit
Ad blocker interference detected!
Wikia is a free-to-use site that makes money from advertising. We have a modified experience for viewers using ad blockers

Wikia is not accessible if you've made further modifications. Remove the custom ad blocker rule(s) and the page will load as expected.