S.O.S took place on April 23, 2009 and was a gold sink event created to usher in the remolding of the Shops. It was announced by Ivan, the GRS Accountant in the form of a bail out for the NPCs.

According to a new clause in the updated Gaia Revenue Service 2009 Tax Code, it seems as though Gaia's shops owe a fairly substantial tax debt. GRS can't divulge the exact figures, but they estimate it's somewhere in the trillions of bazillions.
If they fail to pay their taxes, their shops will be seized and liquidated by the GRS, because that's what they do, for some reason. But if enough Gaians chipped in, they might be able to stay afloat...
Announcements
Edit
April 23: Save Our Shops![1]
This year, the Gaia Revenue Service introduced a very simple new 3,600-page code regulating the taxation of small businesses. Apparently, some of Gaia's shopkeepers didn't read it thoroughly enough, and many are now in massive tax debt and face swift foreclosure.
Theoretically, if these businesses managed to raise enough money to cover their debts, their shops might be saved-- though it seems pretty unlikely, since it would require the Gaia community to band together in a heartwarming show of love and support for their favorite shopkeepers. And what are the odds of that happening?
For more information, please visit this page:
Save Our Shops!

If you help out your favorite shops, they might reward you with an exclusive item! There are seven items total: unique items from Moira, Edmund, Sasha, Ian, Ruby and Liam, plus another item for helping out any other shopkeeper.
---
April 29: Gaia's Shops: Reopened and Remodeled![2]
Gaian Generosity Saves Shops
Gaians banded together this week in a heartwarming show of love and support for their favorite shopkeepers. After the GRS announced that massive unpaid tax debts would likely result in the closure of many of Gaia's shops, private donors stepped in to foot the enormous tax bills and save the shops from bankruptcy.
All in all, a staggering 1,625,515,965 Gaia Gold was donated, and most shops are back on stable financial footing.
Two shopkeepers weren't so lucky-- despite a valiant effort from donators, Liam of Crate & Apparel and Ruby of Gambino Hat Rack narrowly fell short of raising enough to cover their tax debts. "I don't understand it," Liam told Gaia 9 News in a recent interview. "My abs are too spectacular to fail." Miraculously, several other shopkeepers stepped in with loans to keep Ruby and Liam afloat-- however, both shopkeepers decided to reconsider their business strategies and open entirely new shops.
Meanwhile, many Gaia shops have remodeled, swapped their inventories and reorganized their selections to make shopping an easier experience. Instead of being scattered across multiple shops, many item sets will now be available together in one place, and most shops now follow a more recognizable theme:
Selling items will now be handled in your inventory screen. A sellback link will be added to the shops in the coming days.
The Jock Strap will specialize in sporty fashions.

With their new arrangement, Gaia's shopkeepers are feeling much more confident that their financial future is secure. "I'd like to thank all the wonderful people who helped out" says Ian, who runs the remodeled Barton Boutique alongside his cat, Rufus. "I hope they'll stop by and see all the great changes Rufus and I have made."
Visit the Remodeled Shops
Event Items
Edit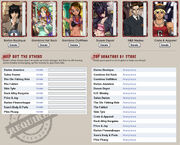 By donating
1k .Gaians would receive a Thank You gift from the shop owners.
Rufus Cosplay - Wearing these gives you a strange craving for raw fish.
Ruby's Bonnet - A cute white bonnet adorned with flowers and ribbons, courtesy of Ruby.
Sasha's Lei - Like, thank you SO much for your help! I TOTALLY appreciate it! For REAL.
Moira's Wig - The trendiest punk hair style in all of Gaia, started by Moira herself.
Edmund's Scar - (no description)
Liam's Tank - Now you too can cover your pythons with this swank tank.
By donating
500g .Gaians would receive a Picket sign from the other shop owners.
SOS Picket Sign - Save Our Shops, Gaia! Show your support to keeping the Gaia Shops alive by sporting this sign.
Criticism & Compliments:
Edit
While some thought it was a great way to remove some gold, they felt that it wasn't enough to effect the overall inflation on Gaia. Some disliked the gold sink aspect, since they felt it was taking their hard earned gold, even though the total loss was 7K.
Some Gaians took the event a bit too literal and thought that the shops presented would indeed be shut down.
There were ideas suggested that Higher Donators should get more prizes, or at least getting more NPC related items from the other shops.

With the reveal of the shop remodeling, came the updated appearances for the NPCs. Which drew in much criticisms and compliments. Some Gaians suspected that Liam and Ruby's shops were rigged to fail regardless of how much gold they were donated. So some felt disappointed that their contribution would not change the outcome of the event.
Event Conclusion
Edit
The update for the shops was a new format: Users could now sort by Price (Ascending/Descending) and Date (Newest/Oldest). The new Item Preview got an option called "View just this item", which works by removing the current clothing and then displaying the selected preview item only. At the bottom of the shopping face, is the visible amount of Gaia Gold and Gaia Cash currently held. The shops also got exterior views and with the exterior view, Gaians could see other Gaians that were hanging around the shop front. And on the right side there is a Shop Directory for easy navigation.
Ad blocker interference detected!
Wikia is a free-to-use site that makes money from advertising. We have a modified experience for viewers using ad blockers

Wikia is not accessible if you've made further modifications. Remove the custom ad blocker rule(s) and the page will load as expected.