The Rejected Olympics Team is a set released on July 19, 2012, it is purchasable only with Gaia Cash or from other users via trades or the marketplace.
Name of Bundle Bundle

Description: Come support all your favorite teams and cheer them up with an exclusive Waffles Mascot Suit!
Price: 999 Gaia Cash
Store: La Victoire
Gender: Any
Date first appeared on Gaia: July 2012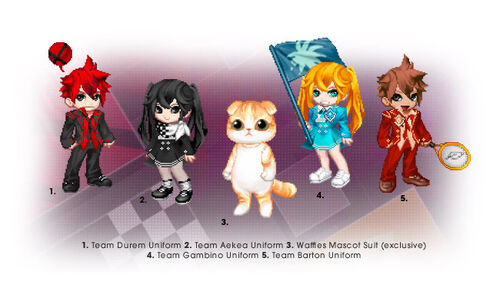 La Victoire
Edit
The Rejected Olympics Uniforms proved to be quite the popular items, and in response, there was an additional uniform for those with a passion for brilliant gold colors-- the Golden Uniform. It does not come with the bundle and is a separate offering.
External links
Edit
"
Good afternoon, Gaians! As I'm sure you're aware, the Rejected Olympics are currently underway, and the event couldn't have come at a more opportune time. All of the unsavory teens who occupy our rumpus room have gone off in search of Olympic glory-- all but Sleepy Joe, who is asleep under the air hockey table and refuses to wake up.

We're not even sure his name is Sleepy Joe. We were prodding him with a broom this morning asking for his name and what he wanted, and he replied with that. Rigel thinks there is a chance he was asking for a "sloppy joe" food item, but regardless, we have a great deal of work to do today and we'll have to just let him continue sleeping.

Today, we're proud to announce a series of items based on the ongoing Rejected Olympics! Grab the items individually from the Cash Shop, or buy the entire bundle and receive an exclusive item, too!


Cheer on your favorite team with the Official Rejected Olympics Uniform for both boys and girls! Each set comes with a jacket, slacks, short wig, cropped jacket, skirt, long wig and of course the team pin. Check out the uniforms for Aekea, Barton, Durem, and Gambino!

Grab the complete set by buying the Rejected Olympics Team Bundle and you'll also receive the exclusive Waffles Mascot Suit. Go Team!


Stop by the Cash Shop now and try them on, there's no better way to show your spirit!

"
 
Ad blocker interference detected!
Wikia is a free-to-use site that makes money from advertising. We have a modified experience for viewers using ad blockers

Wikia is not accessible if you've made further modifications. Remove the custom ad blocker rule(s) and the page will load as expected.