The Promageddon event started on May 28, 2009 and it ended on June 3, 2009.
The new GRS Headquarters would be the setting for the Prom; built from the Gaia Gold collected from the Save Our Shops event. Ivan labeled it THE PROM TO END ALL PROMS! PROMAGEDDON!
Event Beginning
Edit
There was an announcement to Gaians about the upcoming Prom. A link provided and overview of the event and a link to the main page. Cindy informed Gaians of the Lovetron 9000, a new manga called "Promageddon Part 1", and free Gaia Cash. Also, a forum opened up, called Promageddon.
Users could access Promageddon page fully, the page displayed a choice of five themed masquerade rooms to dance in. And another manga called "Promageddon Part 2", was released.
Announcements
Edit
May 20: Announcement: Coming Soon: Promageddon... dance like there's no tomorrow![1]
This just in: Gaia announces 2009 Prom event! Gaia 9 News is first on the scene with all the details...
Rumors have been swirling around about the possibility of another Gaia Prom, and we're pleased to announce that it's absolutely true! From May 28th through June 3rd, we'll be opening up our majestic tower of dance for Promageddon, a massive masquerade party with five different dance rooms:
Heaven: Ascend to blissful new heights of bumping and grinding!
SKITTLES®: Enjoy a tasty rainbow of delicious dancing.
Aquarium: Dive into an undersea world of fishy romance.
Hillbilly: Put on your finest denim, grab your prized hog and yodel the night away.
Hell: An underground dance for the wicked at heart... really, really underground.
You'd better start prepping your masquerade costumes now, because Promageddon is a strictly formal event! To help you get started, we'll be giving away 40 Gaia Cash FREE to all who come and claim it! Be on the lookout for a word from Flynn about some new Promageddon Cash Shop items.
Note: the Cash we give away will disappear on June 30th if you don't spend it by then, so don't dawdle too long! Don't worry-- we won't take away any Cash you paid for *wink*
Our Promageddon pre-event is going on now, so stop by the homepage to claim your free Cash! There are some other fun surprises there, too, including a matchmaking quiz to help you find the perfect date, plus a new manga update to tell you more about the goings-on in the Gaia world.
Learn about Promageddon and claim your Free Gaia Cash!
______________________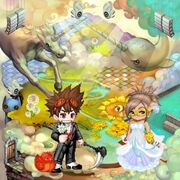 May 28: Announcement: Promageddon: a prom to end all proms![2]
This just in: Gaia's spectacular dance event is starting now! Let's have a look at the full details:
Promageddon is upon us! Grab your partner and head to the towering spire of dance, because it's time to bust moves like there's no tomorrow.
To enter the tower, click the big "Dance" button and pick a game server. From there, explore the rooms to find paths to dancefloors. There are five in all: Heaven, SKITTLES ®, Aquarium, Hillbilly and Hell.
Once you've found the room you want, click the "Go Dance" button at the top of the screen to play the dance minigame. Use the arrow keys on your keyboard to hit the steps as they come along. If you miss a step, don't freak out and keep hitting the arrow-- mashing buttons will reduce your score!
You'll earn an event item for every song you complete. There are two songs in each room, so be sure you explore them all.
To get started, just visit our Promageddon homepage. From there, you can learn more about the dance rooms, grab some prom items from the Cash Shop, and read a brand new event manga!
Experience Promageddon!
To check out the latest installment of Gaia's plot (and have a laugh at Liam's latest misfortune), check out part two of the Promageddon manga!
Read the Manga
______________________
June 3: Announcement: Promageddon is ending tonight![3]
This is Cindy Donovinh reporting for Gaia 9 Action News. We're getting word from Gaia's admins on recent Promageddon developments...
Promageddon is coming to a close! At 11:59 Pacific tonight, the dancing will cease and the fantastical Promageddon tower will resume its regular business as an office complex.
If you're still trying to grab some of those items, it's your last chance to make the attempt! The dance judges might start getting a little more forgiving as the event winds down, so if you've been unable to complete a tough track in the past, you might want to give it another try.
If you picked up your free Gaia Cash at the beginning of the event, remember to make use of it soon-- if you don't spend it, it'll expire at the end of June!
Last Chance to Dance!
P.S. - Stay tuned for the conclusion to Gaia's Promageddon manga, coming soon!
---
File:Avatar Flynn.png|thumb
May 20: Announcement: Cash Shop Update: Promageddon items![4]
Hi, everyone! As you recently heard, we've got a big dance coming up-- it's a perfect occasion to get some fancy new threads, especially since we're giving away free Gaia Cash!
In keeping with the wild themes of the Promageddon dance rooms-- Heaven, Hell, Aquarium, and Hillbilly-- we've got some cool new accessories to build your perfect outfit. For each theme, we've created one modestly-priced item and one slightly more exotic item!
Only 25 Gaia Cash:
Shotfork: It's the one thing a hillbilly feels naked without: a shotgun with a pitchfork tied to it!
Bone Scythe: For all your grim-reaping needs.
Heavenly Awesome: Pretty much exactly what it sounds like: all the awesomeness of heaven at your command!
Swimming Goldfish: Surround yourself with some lovely little goldfish pals.
A little more luxurious:
Henrietta: A live chicken is considered the most fashionable hillbilly accessory.
Seafoam Gown: A light and lovely gown spun of pure sea foam!
Archangel's Blade: Nothing creates a magical prom atmosphere like dispensing some heavenly justice!
Wed to Darkness: A demonic suite of accessories for the wicked at heart, including some devilish horns!

You can grab these now in the Gaia Cash Shop. If you haven't claimed your free Gaia Cash yet, now would be the perfect time!
Prepare for Promageddon!
Rest of the Event
Edit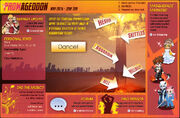 The rest of the event consisted of Gaians dancing the days away to music by two special guest, Jeff Miyahara and Bentley Jones. These two men provided some music for the Event.
Songs for: Heaven
Edit
Decide For You - by Jeff Miyahara
(Rock)
Swing Baby - by Bentley Jones
(Pop)
Songs for: Skittles
Edit
Rainbow - by Jeff Miyahara
(Rap)
High Jump - by Jeff Miyahara
(J-Pop)
Songs for:Aquarium
Edit
Drivin' You Crazy - by Jeff Miyahara
(Rap)
Road Trip Into Oblivion - by Bentley Jones
(Pop)
Songs for: Hillbilly
Edit
Chicken Dance - by Music2Hues
(Hillbilly)
Chicken Yodel - by Wilf Carter
(Speed Yodel)
Songs for: Hell
Edit
(Surf Rock)
Into The Night - by Bentley Jones
(Rap)
Event Conclusion
Edit
The event concluded with a new manga called "Promageddon Part 3", focusing on the Hillbilly room.
Cindy and Edmund stand outside to marvel at the GRS building. While inside, Liam is waiting for Sam to arrive, he asks Gino for advice on asking her to dance. Gino says to be smooth. Just then, Sasha arrives and simply says "hi" to Gino, to which Gino responds in a tongue-tied manner causing Sasha to quickly depart.
On stage Rancher Bill was ready to announce the King and Queen of the Promenade. It turns out to be Sam and Devin. As both stand on the stage, Bill encourages the them to do a celebratory dance, but the two awkwardly stand there and do nothing. Making Bill confused by their lack of chemistry.
Bill then tries a different method, in which Sam and Devin can choose their own partners to dance with. Devin chooses Lance from the crowd and Sam spots Liam, who hands her a corsage. The two dance together for the rest of the night.
Event Items
Edit
Heavenly Drapes
Golden Sparkles
Skittles Crazy Cores Top Hat
Skittles Crazy Core Tuxedo
The Starfish crown
Sea Anemone Bouquet
Wheat Stalk
Barrel Apparel
Neck Shackle
Iron Maiden
Criticism & Compliments:
Edit
The feelings about the event were largely mixed. While some Users were happy to see the return of the dance game, others still had a problem with how it was set up. In that the scrolling for the arrows is horizontal and not vertical. And the music used was praised and criticized, though it is clear that many Gaians liked the music, and stopped by the Musicians profile comment on that.
The environments were liked for their artwork and set up, and the reviews on the items were mixed as well.
Glitches & Problems
Edit
According to Bentley Jones' blog, the event was originally suppose to start on May 18. But there were issues (unknown, but likely a problem with the Flash environment).
Glitches: Lovetron 9000 & Dance Game
Edit
There was a minor issue with the results for the quiz, causing people to receive the incorrect gender of their choosing. This was quickly resolved.
When it came to the dance environment, some Users spoke of experiencing severe lag. This was largely due to the amount of people in one room.
This event marks the first event to have Gaia Cash given out for free. The first time free GC was given out, was when it was introduced.
Ad blocker interference detected!
Wikia is a free-to-use site that makes money from advertising. We have a modified experience for viewers using ad blockers

Wikia is not accessible if you've made further modifications. Remove the custom ad blocker rule(s) and the page will load as expected.