Pet Adoption Sale is a sale involving items that are obtainable through Chance Item containers and later stocked in the La Victoire, they can be purchasable using Gaia Cash.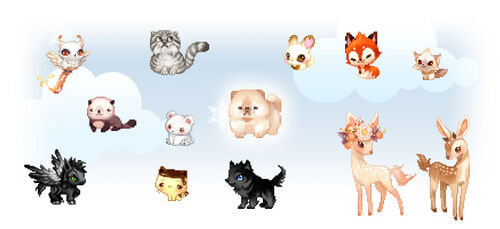 Announcement

December 27, 2013
External links
Edit
Announcement Pet Adoption Sale in La Victoire! - [NPC] Jet & Cygnus Fri Dec 20, 2013 2:23 pm

Cygnus: So. Some of you may be aware of the fact that Jet took it upon himself to sell off most of my action figure collection. Okay. Fine. Two can play at that game. You see, Jet is a bit of a collector himself -- except he collects animals. Lots of them. You won't believe how much fur is shed all over our house. So, I'm gonna be offering 'em up to some good homes. You want a cute critter or whatever? Cool. Stop by La Victoire and look at the ones we've got available.

I think they've all got names, hang on. Here we go:

• The Forest Fawns
• Mochi the Kitten Star
• Koji the Red Fox
• Kyarameru the Purring
• Bom Bom The Bunny
• Tunnu the Bear
• Olly the Otter
• Arion the Pegasus
• Fiametta the Phoenix
• Manul the Pallas Cat
• Nochi the Wolf
• ... and the new Puffmuffin the Chow Chow!


They're cute and whatever, I guess. But honestly I think they'd probably be better off with some Gaian than Jet, since he's a colossal jerk. This adoption drive goes from now until December 28th, 11:59 PM EST so make sure you drop by soon. Please. 'Cause I can only handle so much adorableness without feeling really nauseous.

Visit La Victoire!
Ad blocker interference detected!
Wikia is a free-to-use site that makes money from advertising. We have a modified experience for viewers using ad blockers

Wikia is not accessible if you've made further modifications. Remove the custom ad blocker rule(s) and the page will load as expected.