The Perfect Summer is a Summer and beach-theme set released on June 27, 2012, it is purchasable only with Gaia Cash or from other users via trades or the marketplace.
Perfect Summer Bundle

Description: Includes Island Sherbert, Laraha Sea, Crimson Sunset, Lovely Maritime, and the exclusive Summer Jelly.
Price: 999 Gaia Cash
Store: La Victoire
Gender: Any
Date first appeared on Gaia:
June
2012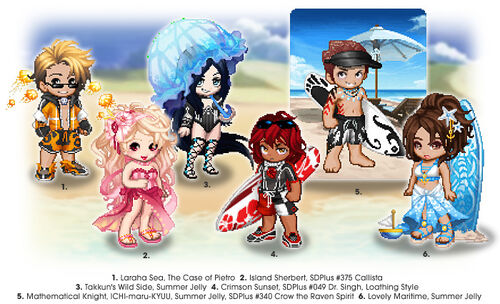 Summer Jelly - Cute, Relaxing, and Cool all embody the annoying awesomeness that is the Jellyfish. (exclusive item)
External links
Edit
"
Friends, it's time to get out and enjoy the glorious sunlight! As much as Mintaka and I enjoy having you all in our rumpus room, things have been a little rowdy lately, and we need to perform some minor repairs. We're also going to be cleaning the guest bathroom with plenty of bleach, and I don't even want to explain why.

In any matter, we've assembled a number of new summer items for you to enjoy! Grab them all at once by purchasing the Perfect Summer Bundle, and you'll also get an exclusive item. Have a look:




Island Sherbert - This lovely blonde is no airhead-- she'll throw the best beach party you've ever seen! Includes ribboned, pink-tipped pigtails, a one-piece bathing suit with stripes and bows, a flowing red shawl, and white hibiscus flower accessories for your waist and hair!

Lovely Maritime - A pro boater, Lovely Maritime would love to do nothing more than spend all day on the wide open seas. Includes sea-swept hair, a frilly two-piece bikini, blue billowing shawl, and strappy jeweled sandals!

Laraha Sea - That cool handsome guy you always see playing volleyball at the beach. Includes everything you need to be just as awesome! Tribal print board shorts, a water-resistant jacket, winged coral shoes, fashionable accessories with waterproof watch, and of course that awesome dirty blonde hair!

Crimson Sunset - There is a distant legend of the most gnarly dude to ever tackle a wave, and his name was the Crimson Sunset! It's foretold that the legendary surfer wore items such as these-- a tricolor wetsuit, snappy coral shoes, deep red hair soaked with seawater, and a pair of mismatched board shorts!

Get all four of the above items at once by grabbing the Perfect Summer Bundle, and you'll also get the exclusive Summer Jelly! Somehow, somewhere, someone always manages to find a jellyfish. These little guys can be annoying when they sting, but they also make for a wide array of cool accessories, including a frilly umbrella two kick-butt tribal surfboards, and your own private beachfront with seating for two!


These items and the bundle are available at La Victoire now. Come over and try them on!

"
 
Ad blocker interference detected!
Wikia is a free-to-use site that makes money from advertising. We have a modified experience for viewers using ad blockers

Wikia is not accessible if you've made further modifications. Remove the custom ad blocker rule(s) and the page will load as expected.