OMNIDRINK™ is a corporation that appeared on Gaia Online April 1, 2009. During their stay they introduced Gaians to some of their products, such as the "Omnidrink Personal Improvement Spray", which was suppose to be for outward use only, since drinking it would cause one's head to explode.
They also sponsored a new world in zOMG, which would have been accessible by using Cresento's airship, but the ship didn't make it, cause it crashed. But willing participants were given the item "GSI Error" as consolation gift.
On June 22, 2010, OmniDrink's presence is still within Gaia with the release of the Famestar Hero CI. They were the sponsors for upcoming Musicians Heroes who were trying to save the world from aliens called the Vylons. OmniDrink allowed the young singers to use their fabled mega-stadium, the OmniDome, to accomplish this task. Though there was the condition of signing a contract first.
During October, it was revealed that an OmniDrink waste product, referred to as Byproduct 2113, was the cause of distress for ghostly inhabitants in a nearby cemetery. And another product caused the early death of a young woman named Edith Drink, who was the wife of Michael J. Drink; the son to the very founder of OmniDrink.
ABOUT OMNIDRINK
Edit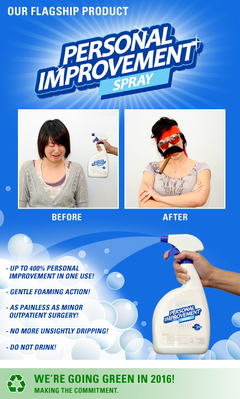 What is OmniDrink Amalgamated Heavy Manufacturing Concern?
Founded in 1953 by William F. Drink, OmniDrink provides innovative industrial solutions in the would of heavy manufacturing and high-volume chemical processing. We create a wide range of chemical products to enrich lives worldwide. Please note that OmniDrink products are not intended for drinking.

Why has OmniDrink purchased Gaia Online?
Gaia Online is a perfect fit for the OmniDrink family of brands, which includes such diverse companies as Hough•Byron Aeronautics, Silomax Grain, Bismarck Whaling GmbH, Lucky Rooster High Explosive, Snake Canyon Peacekeeping, Golden Eagle Malt Liquor and Allied Infrastructure LLC.

How will Gaia Online change in the coming months?
As always, the main focus will be on FUN! ln order to better fit the OmniDrink strategy, Gaia Online will maintain its robust online community roots while gradually shifting its focus toward exciting forum discussions of OmniDrink products and our cutting-edge industrial processes.

Does OmniDrink make drinks or beverages?
No. OmniDrink products should not be consumed. OmniDrink is named for founder William F.Drink, and makes innovative chemical products such as high-potency nuclear fuels, industrial mucilage, metal-etching fluids and Personal Improvement Sprays. OmniDrink products should be used only as directed. Please do not drink OmniDrink products.
OUR FREE GIFT TO YOU
Edit
As our way of saying "thank you" to all the loyal Gaians out there, OmniDrink Amalgamated Heavy Manufacturing Concern is proud to extend a courteous introductory offer. Each Gaia member will be given a sample of your newest OmniDirnk product: Omni Drink Personal Improvement Spray! Feel free to try this exciting product "on the house." Please do not drink this product.
Free Personal Improvement Spray Sample!
WE'RE GOING GREEN IN 2016!

Edit
MAKING THE COMMITMENT
See also & External links
Edit
OmniDrink profile screencap.
Lanzer
is happy to have OMNIDRINK™ present on Gaia Online.
Ad blocker interference detected!
Wikia is a free-to-use site that makes money from advertising. We have a modified experience for viewers using ad blockers

Wikia is not accessible if you've made further modifications. Remove the custom ad blocker rule(s) and the page will load as expected.