The Oktoberfest is a German Oktoberfest-theme set released on October 20, 2010

Description: Includes Herr Schwartz, Fraulein Marzen, Hops the Goat and the exclusive Bavarian Delights.
Price: 749 Gaia Cash
Store: La Victoire (formerly)
Gender: Any
Date first appeared on Gaia:
October
2010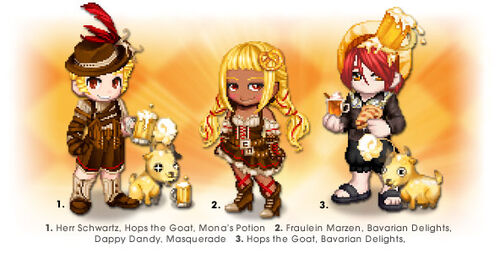 Fraulein Marzen - Only the bravest of women fall for men in THOSE pants! (399 Gaia Cash)
Herr Schwartz - Only the bravest men wear pants like these. (299 Gaia Cash)
Hops the Goat - Hops is one tipsy kid. (199 Gaia Cash)
External links
Edit
"
Ah, how we love October! Along with all the frightful goings-on, there's also another intergalactic tradition that Rigel and I simply adore: Oktoberfest! While we may seem like polite celestial beings, we're not too elegant to cut loose with the occasional two-week bender of strong brews and heavy meats. To celebrate, we've brought some wonderful new items into the Cash Shop!

Fraulein Marzen includes all you need for a traditional Oktoberfest look. Includes a fetching blonde wig, a cute dress, a leather belt, boots and gloves.

For a manly look, Herr Schwartz includes a feathered cap, a shirt, a pair of boots and, of course, the all-important lederhosen.

Looks like Hops the Goat has been hitting the ol' sauce again-- I don't trust him when he gets that gleam in his eye.

The Oktoberfest Bundle is packed with both value and sausage: it contains all the items above, plus the exclusive bonus item, Bavarian Delights!

You can indulge in this intoxicating set in the Cash Shop-- please enjoy responsibly!

"
 
Ad blocker interference detected!
Wikia is a free-to-use site that makes money from advertising. We have a modified experience for viewers using ad blockers

Wikia is not accessible if you've made further modifications. Remove the custom ad blocker rule(s) and the page will load as expected.