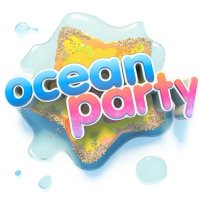 Announced on February 1, 2010, but not announced site wide. Ocean Party is Facebook application located in the Game category, and created by Gaia Online to expand on the Gaia Aquariums. Players can create their own virtual aquarium, spice it up with colorful decorations, plop in fish and other oddball sea critters, then watch it come to life with vibrant graphics and animation, eye-pleasing special effects, and playful AI [1].
The Gaia Aquarium and Ocean Party are completely independent of each other, so anything taken or placed in the Ocean Party tank, will not effect the the Gaia Aquarium and vice versa. When it comes to the gold earned in the game, Gaian players can not use the gold from the game on Gaia itself. This was done so as not to impact the Gaia economy while they continue to fine tune Ocean Party.
Features that work really well in Ocean Party will eventually be ported over to Gaia Aquarium.

Ocean Party's gameplay revolves around breeding and selling fish (which don't survive long), and it is not necessary to link ones Gaia account with a Facebook account in order to play Ocean Party.
March 11 update
Edit
On March 11, the Ocean Party game got a site wide announcement: for a limited time, Gaia players would be able to earn some Gaia Gold off all the Ocean Party XP. Normally Ocean Party and Gaia will be completely separate.
External Links
Edit
References
Edit
Ad blocker interference detected!
Wikia is a free-to-use site that makes money from advertising. We have a modified experience for viewers using ad blockers

Wikia is not accessible if you've made further modifications. Remove the custom ad blocker rule(s) and the page will load as expected.