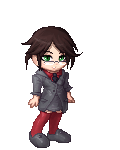 These were posted in the Gaia 9 Action Newsletter, January 2011.
With the new year, Gaia's shopkeepers have made some resolutions for a happier 2011. Almost no one actually keeps their New Year's resolutions, but it's still fun to see people try!
Thanks for tuning in to Gaia 9 Action News, your source for news and more! Come back next month for the latest and greatest happenings around town!