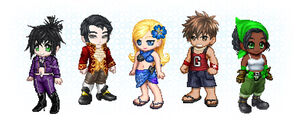 The NPC-based items are a collection of items and clothing similar to what some of the Gaia Shop NPCs wear, it was released in June 2010 and purchasable with Gaia Gold or from other users via trades or the Marketplace.
Moira's Naval Piercing - A round naval stud, designed to make your stomach look cool. (2,700 gold)
Moira's Studded Collar - A stylish leather collar with metal studs and a heart tag. (4,500 gold)
Moira's Zipper Pants - Leather pants with long zippers going up the front of the legs, creating a hip and stylish look. (5,700 gold)
Moira's Jacket - Made of high quality leather and sporting studs and chains, this jacket is undeniably cool. (8,100 gold)
Sasha's Bikini Top - A colorful top featuring a wrapped design for a stylish look out on the beach. (3,300 gold)
Sasha's Hibiscus - A fresh flower from the Isle of Gambino, commonly worn in the hair of local women. (3,960 gold)
Sasha's Sarong - A colorful wrap from Isle de Gambino, made popular by shop owner Sasha. (4,320 gold)
Louie's Blouse - I said add extra poofs and frills! What a marvelous job the tailor did understanding my refined tastes. (8,100 gold)
Louie's Vest - No this vest wasn't hand embroidered by children! (15,660 gold)
Louie's Jacket - I got this jacket custom tailored in Paris, France. (58,800 gold)
Liam's Puka Shell Necklace - We all know you want to hang around Liam's neck all day, but not everyone can live the dream. Live vicariously through this genuine replica of Liam's puka shell necklace. (1,800 gold)
Liam's Sweat Star Wristbands - Dress up your wrists with these awesome bands while you practice your bicep flexes in front of the mirror. (2,400 gold)
Sam's Headwrap - A simple wrap to tie your hair back with when you need to get down and dirty. (1,500 gold)
Sam's Elbow Pads - Protect yourself from scrapes and cuts with these heavy duty guards. (1,800 gold)
Sam's Utility Belt - A perfect place to store hardware or giant wrenches. (4,320 gold)
External Links
Edit
Ad blocker interference detected!
Wikia is a free-to-use site that makes money from advertising. We have a modified experience for viewers using ad blockers

Wikia is not accessible if you've made further modifications. Remove the custom ad blocker rule(s) and the page will load as expected.