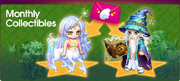 A Monthly Collectible (MC) is a special Premium Item that is released once a month. The item is generally of higher quality than regular shop items, both in versatility and art quality.
They are only obtainable by buying a "Monthly Collectible Letter" from the La Victoire for a fee of $2.50(USD) each, the letter always occupies the first slot of the shops inventory. Another method to obtain letter is by buying them from another Gaian via trades or the Marketplace.
The Monthly Collectibles have been released every month since June 2003, and for every 1 letter there contains a choice of 2 items, at times there are 3 for special occasions. The only difference is the very first letter which contained only 1 item, the Angelic Halo. When a letters month has passed, it will never be re-released, then the only way to obtain an older Monthly Collectible item is to purchase it from another Gaian via trades or the Marketplace. Other methods are to win an item from the "Gaia Wheel" at Gaia Online booths at conventions or if Gaia Staff holds a contests wherein the prize is a Letter of a particular month, which is quite rare.

See also: Category:Monthly Collectible, Thank You Letter list, and Monthly Collectible Letter list
Monthly Collectibles have a magenta sparkle
Monthly Collectible(s) were previously known as Donation Item (DI).
On December 29, 2013, the Monthly Collectible Grab Bag was released, making any item from 2003 to 2013 obtainable by opening the container.
On April 15, 2014, letters were offered in a bundle package, opening will yielded five letters.
Announcements
Edit
Main articles: 2003 to 2006, 2007 to 2010, and 2011 to 2014
External links
Edit
Monthly Collectibles
2003
March - June
Angelic Halo
 • The first donation item released on Gaia Online. This was the unexpected reward for early donations before and on June when the Donation feature was first introduced.
July

August

September

October

November

December
2005
January

February

March

April

May

June

July

August

September

October

November

December
2006
January

February

March

April

May

June

July

August

September

October

November

December
2007
January

February

March

April

May

June

July

August

September

October

November

December
2008
January

February

March

April

May

June

July

August

September

October

November

December
2009
January

February

March

April

May

June

July

August

September

October

November

December
2010
January

February

March

April

May

June

July

August

September

October

November

December
2011
January

February

March

April

May

June

July

August

September

October

November

December
2012
January

February

March

April

May

June

July

August

September

October

November

December
2014
January

February

March
April
May
June
July
August
September
October
November
December