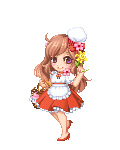 The Rina's Dream Event began on July 22, 2010.
It appeared as a journal entry posted by Rina. While released in the Barton Flowershoppe was a Strange Cupcake baked by Rina and Kanoko. A few days later, Rina apparently sold enough of her cupcakes to open her new shop, the Buttercup Café.
Journal Entry
Edit
Rina: Journal Entry 1Edit
Summer is the best!! So many flowers in bloom, I just can't stop smiling!! Plus, Kanoko couldn't go with Brennivin on his trip, so she's here helping me for the summer. But there are so many flowers blooming now, no one's coming into the shop. We're so BOOOORED. Maybe if I opened a cute little café in the store, we'd have someone to talk to! And I could decorate it with lots of flowers!!

Kanoko and I started learning to bake right away. I think I'm a natural!! Kanoko says my chocolate-rhubarb-sausage pie is one of a kind. It might not even matter, though-- starting a café costs so much!! But then last night I had an amazing dream. Rufus came to me and whispered a recipe for the BEST CUPCAKE EVEERRRR. He says it's his absolute favorite. So today I'm starting a cupcake bake sale. If I sell enough, I'll be able to re-model this place and turn it into my dream shop. I really hope lots of people buy my cupcakes so I can open my new shop!!!
Buy My Cupcakes!
---
Rina: Journal Entry 2
Edit
I can't believe it - Buttercup Cafe is officially open open!! :icon_biggrin:
I'm so grateful to all of the people who helped me make my dream come true! I can hardly believe that 3,752 people were willing to give my cupcakes a try. Thanks everyone! The crazy part is that I sold a little over 10,000, meaning some people bought more than one-- even though it turns out they were totally barfalicious! You guys are real friends!! Gaians are the best!! To thank you to those of you who supported my dream, I've added a special surprise to my Special Cupcake!
I'm sooooo happy, but I'm also exhausted!! Leon is a crazy person! Why did I have to practice chopping onions for three hours every morning! Or learn to crack an egg on my forehead! Or carry pots of boiling water with my teeth!! Or wash his dirty underwear!!! But he also had some good ideas, like measuring ingredients and using a timer. He says if we stick to a few simple recipes and do a good job we'll be great cooks. And then people will come!! And flowers!!
Announcements
Edit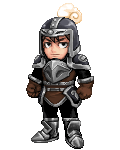 July 26: Rina's Dream: Buy a cupcake?[3]
I don't know if you've heard, but Rina wants to upgrade her shop and open a café. She's been working hard to learn how to cook but...let's just say it's a work in progress. No, that's misleading. It's been a nightmare-- she doesn't know the first thing about cooking!
If you haven't already, will you help her out? In the meantime, I've got both Rina and Kanoko in cooking boot camp. Don't worry, Gaians-- I'll make sure this bakery is top-notch, one way or another!!
Buy Rina's Cupcakes!
---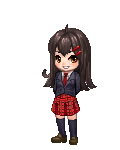 July 26: Rina's Dream: Buy a cupcake?[4]
Hey, guys!! I've been helping my good friend Rina too!! We're kinda broke though, so last week she decided to hold a fundraiser by selling some special made-from-scratch cupcakes. Now Leon is killing us with cooking lessons! Apparently we can't cook at all!!  :icon_gonk:
In the meantime, I've been trying to think of other ways to help Rina, then I thought, HEY! I should collect some opinions about what kind of stuff she should have in her new shop when it opens! If you guys have suggestions on what you'd like to see, maybe even share some of your favorite recipes, we'd love to hear them. :icon_4laugh:
Ad blocker interference detected!
Wikia is a free-to-use site that makes money from advertising. We have a modified experience for viewers using ad blockers

Wikia is not accessible if you've made further modifications. Remove the custom ad blocker rule(s) and the page will load as expected.