The Manga Mash-Up Contest began May 27, 2010 and was announced by two new NPCs. The contest is based on manga parodies called Mash-Up's, an activity in which Gaians take various images of the Gaia Storyline Manga and add comical dialogue or alter the original image using an image program.
Announcements
Edit
Announcement 1
Edit
Rigel: In case you hadn't noticed, we've taken over the Cash Shop!
Mintaka: If we're stuck on this planet, we might as well do something fun.
Rigel: Anyway, since we now have new jobs, we thought we'd host our first contest. All you have to do is wow us by sharing your edits to the latest manga, which is pretty much all about us. The three most creative, funny or outstanding entries will win one of the new Animated Items.
Mintaka: Make sure you peruse all these rules before entering:
Edits should contain images from any of the recent Sparkle comics; edits using only images from other comics won't count for this contest.
Post your entry only once. We promise we'll look at every one!
You can enter as many different edits as you like.
Try to remove images when quoting each other. That way it's not the same images posted over and over again.
Edits should be safe for work and abide by the Terms of Service.
We'll choose our favorite three images. 1st Prize gets the Spectacular Golden Halo, 2nd Prize gets Baron the Lively Owl, and 3rd Prize gets Sweet Charming Blush.
Contest ends on June 1st, so please post your edits before then!
Five Dollar Foot-long edits are immediately disqualified. We're serious about this one. Deadly serious.

Rigel: There you have it! Saiph is going to make himself useful by posting all the pages for you to edit. Scroll down to see!
---
Announcement 2
Edit
Rigel: The Manga Mash-Up Contest has come to an end--
Mintaka: And we've got some winners! A big ol' bundle of winners!
Rigel: Congratulations goes to these lovable Gaialings for making us laugh:
3rd Place (Sweet Charming Blush): Elmihy
2nd Place (Baron the Lively Owl): Nymphalini
1st Place (Spectacular Golden Halo): Space Jew
Mintaka: A whole bunch of other Gaians impressed us too, so we gave them some Gold.
Rigel: This planet really isn't so bad after all!
Mintaka: And don't forget to come visit us in the Cash Shop! The first-ever Animated Items leave the shop on Monday.
External Links
Edit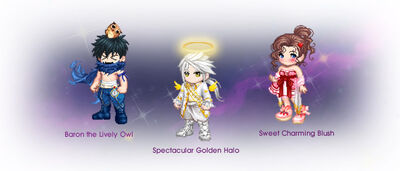 Ad blocker interference detected!
Wikia is a free-to-use site that makes money from advertising. We have a modified experience for viewers using ad blockers

Wikia is not accessible if you've made further modifications. Remove the custom ad blocker rule(s) and the page will load as expected.