The Mad Science is a set released on April 5, 2012, it is purchasable only with Gaia Cash or from other users via trades or the marketplace.

Description: Includes Doctor Killshye, Nurse Hazard, Unorthodox Experiment and the exclusive Deus Persona.
Price: 999 Gaia Cash
Store: La Victoire
Gender: Any
Date first appeared on Gaia:
April
2012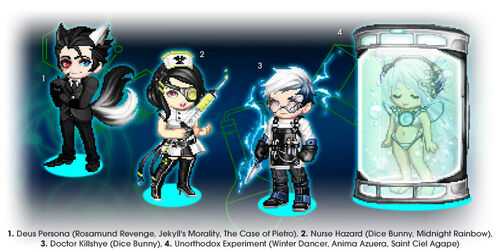 Deus Persona - Where there's good, there's also evil (exclusive item)
Doctor Killshye - It's said there's a thin line between genius and insanity. The phrase rings true for the eccentric Doctor Killshye, whose unconventional ideas and questionable experiments have labeled him a mad man among those who fail to appreciate the brilliance of his work! (499 Gaia Cash)
Nurse Hazard - CAUTION! Working with a mad Doctor has its risks; that which Nurse Hazard is fully prepared to handle! As an assistant, she is on call to manage the numerous hazards resultant of the Doctor's strange and unethical experiments. (499 Gaia Cash)
Unorthodox Experiment - What goes on in the lab, stays in the lab... (199 Gaia Cash)
External links
Edit
"
Science is defined as the investigation of natural phenomena through observation and experimentation, but what defines Mad Science? Doctor Killshye defines it as unorthodox. It doesn't conform to rules or traditions; instead it's driven by curiosity, breaks boundaries and limits limitations. It is a unique practice that involves thinking outside the box! We have just stocked the Cash Shop with a few new items and a Mad Science Bundle that appreciators of such scientific perversion will relish.

Doctor Killshye - Science knows no bounds for a man like Doctor Killshye. He's not afraid to explore the unknown, and is heedless to the possible consequences that follow his unusual experiments. For this reason, many people believe he's mad. Includes hair, glasses, apron, lab coat, pants, and electric scalpel.
Nurse Hazard - Aligned with the doctor's philosophies, the lovely Nurse Hazard gladly assists by being prepared to handle any disaster the doctor might muck up when his experiments don't go as planned. Includes hat, hair, goggle, lab coat, syringe belt, boots, and syringe.
Unorthodox Experiment - Three things the doctor wishes to achieve in his lifetime: control the minds of men, live forever, and obtain eternal youth! Includes Mind Control Device, Life Support, Cryo Chamber, and The Lab.
Get all three of the above items in the Mad Science Bundle and you'll also receive the exclusive Deus Persona, which includes good eye, evil eye, ears, and tail.

In the world of Mad Science, you're either doing the research or you're the experiment. Visit the Cash Shop now!

"
 
Ad blocker interference detected!
Wikia is a free-to-use site that makes money from advertising. We have a modified experience for viewers using ad blockers

Wikia is not accessible if you've made further modifications. Remove the custom ad blocker rule(s) and the page will load as expected.