The Lunar Dragon is a Year of The Dragon-theme set released on January 23, 2012
Lunar Dragon Bundle

Description: Contains a bundle with Pink Dragoness, Golden Dragon, Xin the Lucky Dragon, and the exclusive Lunar Celebration.
Price: 999 Gaia Cash
Store: La Victoire (formerly)
Gender: Any
Date first appeared on Gaia:
January
2012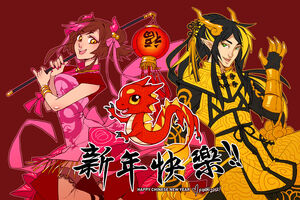 Lunar Celebration - Immerse yourself in festivities, culture, and awesome food! (exclusive item)
Xin the Lucky Dragon - Keep this little dragon close to you a year of good luck! (299 Gaia Cash)
Golden Dragon - Powerful and mysterious, the Golden Dragon takes on the new year with confidence and pride. (399 Gaia Cash)
Pink Dragoness - Celebrate the Year of the Dragon in style with a beautiful pink ensemble! (499 Gaia Cash)
External links
Edit
"
Greetings and Happy Chinese New Year! Rigel and I are kicking off the Year of the Dragon with new items and a new bundle that are certain to be among your favorites!

Xin the Lucky Dragon is the bringer of good fortune! He'll protect you with his firey breath but snuggle close to you when he feels happy and safe. Look just as awesome as he does with your own blazing mohawk!

The Golden Dragon is both mysterious and powerful. Although he may come off as intimidating, he certainly does have a heart of gold! Includes gilded tunic, pants, clawed gauntlets, armored boots, flowing hair, and ornamented horns.

The beautiful and graceful Pink Dragoness is ready to celebrate the holiday in her flowing new outfit! She's not complete without her decorative ribbons to compliment a pair of cute horns, spiky baobao hairstyle, dragon embroidered qipao, layered dress, golden bracelet, and her favorite strappy heels.

Grab the Lunar Dragon Bundle to get all of all of these items, as well as the exclusive Lunar Celebration! Where else would you rather be for the Chinese New Year? Immerse yourself in culture and have a blast while doing it! Includes a glowing Chinatown backdrop, glowing lucky paper lantern, dragontail scarf, and colorful New Year's fireworks.

Artist Finni created this neat illustration to go along with the bundle. Click for biggie!

"
 
Ad blocker interference detected!
Wikia is a free-to-use site that makes money from advertising. We have a modified experience for viewers using ad blockers

Wikia is not accessible if you've made further modifications. Remove the custom ad blocker rule(s) and the page will load as expected.