The Love of Tea is a set released on August 17, 2012, it is purchasable only with Gaia Cash or from other users via trades or the marketplace.
Love of Tea Bundle

Description: Includes Serene Green, White Delight, Oolong Wonder, Bitter Black and the exclusive Scenic Tea Party.
Price: 999 Gaia Cash
Store: La Victoire
Gender: Any
Date first appeared on Gaia: August 2012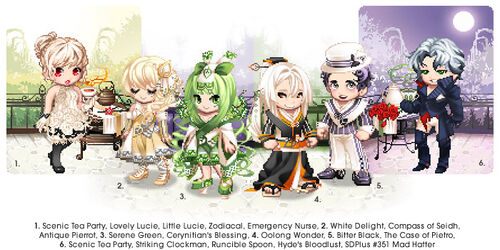 Scenic Tea Party - What better environment to appreciate tea with others in than an outdoor terrace. (exclusive item)
External links
Edit
"
Happy Friday, Gaians! It's a gorgeous day here, and one would assume that means folks would be enjoying the weather and each other's polite company. We're sure that simple enjoyment of existence is happening somewhere, but not in the attic rumpus room of La Victoire. We're unable to get inside because the apparent lead teen-- a youth named Rasmussen-- has barricaded himself and his friends inside for the last several days, and they're having an air hockey party that just won't quit.

Don't be like Rasmussen. Let's slow down and enjoy a cup of tea with this new series of tea-themed items. Grab them all at once by getting the bundle and you'll also get a new exclusive!


Serene Green is very knowledgeable when it comes to tea leaves. If only she studied brewing with the same enthusiasm. Item includes bow headdress, curled double pigtail hair, double layered dress, ankle length kimono sleeves, and lotus shoes.

White Delight enjoys her tea with plenty of milk and sugar. So much so she adds them in every tea drink in sight! Item includes lacy hairclip, entwined hair, double layered top, cuffed stripe gloves, and a modest skirt.

Oolong Wonder has the touch when it comes to brewing tea, though he'll never give away his secrets. Item includes bound long hair, triple layered sleeveless coat, cuffed stripe gloves, teabag belt chain, and double layered robe bottoms.

Bitter Black often leans towards the stronger end of the taste spectrum, but his youthful personality will sweeten things up! Item includes ribbon hat, short perm hair, triple layered coat, high waist pants, and polished shoes.

Pick up all four of the items above by buying the Love of Tea Bundle and you can enjoy your tea outdoors with the exclusive Scenic Tea Party!

Come by the Cash Shop and try things on, we think you'll love them!

"
 
Ad blocker interference detected!
Wikia is a free-to-use site that makes money from advertising. We have a modified experience for viewers using ad blockers

Wikia is not accessible if you've made further modifications. Remove the custom ad blocker rule(s) and the page will load as expected.