The Lake Cygnus is a set released on November 12, 2012, it is purchasable only with Gaia Cash or from other users via trades or the marketplace.
Lake Cygnus Bundle

Description: Includes the Ivory Guardian of the Inland Sea, Dark Temptress of the Watery Depths, Prince with a Wavered Heart, and the exclusive Peaceful Ruins!
Price: 999 Gaia Cash
Store: La Victoire
Gender: Any
Date first appeared on Gaia: November 2012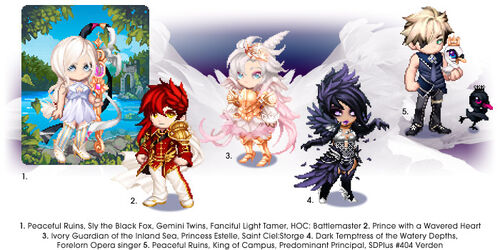 Peaceful Ruins - A serene setting from another time and another world complete with flora and fauna. (exclusive item)
External links
Edit
"
Good afternoon, Gaians! We're very pleased to be stocking a series of new items as well as a new bundle today! On an unrelated note, you might notice when you visit the shop that we're keeping it a little colder than normal in there. It's to keep the rowdy air hockey teens out-- the first time we turned on the furnace for the year it made the whole place smell like burning dust, having been off for the summer. Anytime the teens come around, we turn the heater on, let the smell propagate, flick the lights on and off, and shout, "Oh no, it smells as if the trash you unsavory youths have left in our rumpus room is smoldering! Run!" which gets them out pretty quickly, usually.

Even though the temperature inside the shop is slightly chilly, these new items are fantastically hot! Have a look:

Ivory Guardian of the Inland Sea - Become a stalwart protector of a forgotten kingdom! The Ivory Guardian of the Inland Sea includes a winged cape, holy armor and greages, a fanciful skirt, and a feathered hairdo.

Dark Temptress of the Watery Depths - Willing to fight for her place in the Forgotten Kingdom, this Dark Temptress of the Watery Depths is capable of deceiving anyone into believing that she is the one true guardian. Includes dark feathery hair, chainmail dress, dancing arms, steel-toed feathered boots, and feathered belt.

Prince with a Wavered Heart - Loved by one, deceived by the other, the Prince must search within himself to discover whom he must defend. Includes red feathered hair, ivory cape, scarlet blazer, belt, and red stripe pants.

Grab each of the items above at once by getting the Lake Cygnus Bundle, and you'll also receive the exclusive Peaceful Ruins! Inside the Peaceful Ruins, you'll find some baby swans that need a home, a powerful magic staff, and a scenic lakeside background.

Come visit the Cash Shop and try them on! We'll be here, turning the rowdy teens away!

"
 
Ad blocker interference detected!
Wikia is a free-to-use site that makes money from advertising. We have a modified experience for viewers using ad blockers

Wikia is not accessible if you've made further modifications. Remove the custom ad blocker rule(s) and the page will load as expected.