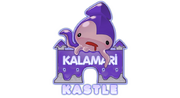 Kalamari Kastle
is a collaboration with Gaia Online and The Public Zoo, which uses colorful unique art and characters that are offered as Gaia items. It was announced
September
23,
2010
.
Announcements
Edit
Once a week at Gaia HQ we have a mandatory "clothing day," during which all staff are required to wear clothes. To make the most of it, we're constantly on the prowl for the best of the fashion world, and Kalamari Kastle is our new go-to source for style info. Now we wear clothes just for fun!
Brought together by our shared fashion interests, Gaia and Kalamari Kastle will be working together-- maybe more like passing notes in class than "working"-- to bring you the latest in alternative styles. To start, we've got two murderously cute characters from The Public Zoo. Mr. Eeh is a hard-boiled egg who never got laid; Hickup is a wide-eyed panda with blood on his hands. You can get little versions of these guys for your avatar by visiting Kalamari Kastle.
Sept 23, 2010
The Public Zoo's Mr. Eeh - Mr. Eeh - the hardboiled egg that never got laid, created by The Public Zoo. Brought to you by Kalamari Kastle
The Public Zoo's Hickup - Hickup - the panda with issues, created by The Public Zoo. Brought to you by Kalamari Kastle
External links
Edit
Ad blocker interference detected!
Wikia is a free-to-use site that makes money from advertising. We have a modified experience for viewers using ad blockers

Wikia is not accessible if you've made further modifications. Remove the custom ad blocker rule(s) and the page will load as expected.