Item Design Contest titled The Captain's Cap contest was announced March 2, 2010, and Gaians had 8 days to design a captains hat, all entries had to be received by 10:00 AM (Pacific Time) on March 10, 2010. The promo was: When adventure calls, no self-respecting airship captain is complete without a trusty hat. Grab hold of fame and fortune by sharing your designs for the most glorious and captainly of hats.
Cresento: Announcement
Edit
Hah! So you think you have what it takes to be an airship captain? I'd laugh in your face if I wasn't floating so high above you in my majestic airship. It takes strength, cunning, amazing ingenuity, courage, and--most importantly--a magnificent hat to inspire the loyalty of your crew.
As it so happens, Gaia is offering quite the bounty to any would-be hat designers out there. Take a look at their challenge and share your designs. A few lucky winners will walk away with a hefty pile of Gold.
Design the Captain's Cap!
You'll need to act fast. The deadline for submissions is Wednesday, March 10th. Let's see what you've got!
Contest Info
Edit
Grand Prize:
Gaia Artists Create your item and 500,000 gold
Finalist Prize:
All finalists get 10,000 gold
Entry Fee:
250 gold per submission
Deadline:
3/10/2010
Winner(s)
Edit
The winners were announced on April 12, 2010. Four new items were added to the Gaia shops.
Dapper Captain's Hat (Overall winner) - designed by Emo Scratches
Cloud Captain's Helm-Hat (Second-place winner) - designed by BLooDSHoT
Batty Clockworks Cap (Third-place winner) - designed by IceistJinxx
Strange Captain's Hat (Staff pick) - designed by Longduck
The items are available for purchase in the Map:Barton Boutique.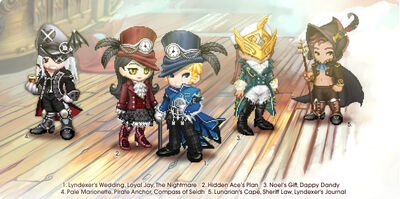 External Links
Edit