Item:Vial of Unknown Liquid
Talk

0
2,210pages on
this wiki
The Vial of Unknown Liquid was a special item sold by former G CORP employee LabTechX in his store during the Halloween 2k4 event. It was a cure to the zombifying virus that had spread during the event and, when taken, returned zombiefied Gaians back to normal humans.
During the Grunny Invasion of Halloween 2k5, every user received a vial in their inventory to act as an optional cure for Grombie status attained during that event.
Vial of Unknown Liquid

Description: A strange vial of neon green liquid. The cork of the vial is inscribed with the G CORP logo.
Price: This item has no specific price
Store: Not available in stores
Gender: Any
Date first appeared on Gaia: October 2004
Trivia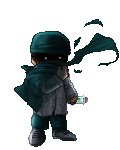 The vials were originally sold for 100g by LabTechX. And although they are not a holdable item, they have collectors value.
Due it being a cure, the liquid has no effect on Gaians that are already human or various other species that are not zombie.
The complexity of the liquid has never been explained. It has been speculated that it revives dead tissue on a mass scale. In manga #12: Gino vs. Labtech X with the battle at Barton Cliffs, the liquid was used to separate Johnny K. Gambino from his son Gino Gambino. People associate that moment with Johnny actually dying while he fell off the tower, however this has never been confirmed.
External links & See also