This is a Chance Item container.
Super Prize 2011

Description: Open for a chance at one of 2011's past boxes, or a special exclusive item!
Price: 299 Cash
Store: La Victoire
Gender: Any
Date first appeared on Gaia: December 19, 2011
Actions: Marketplace Item Information
How it's played
Edit
When a player purchases a Super Prize 2011, they can open the container to receive an item.
Items from Super Prize 2011
Edit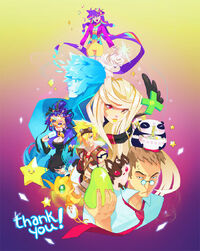 Apparel and Accessories
Listing Mystical Mender - Menders are highly skilled in the art of magic. However, instead of using their power to hurt they help heal and protect their friends in battle.
Listing Virgil's Sinister Verdict - The poet scrawls in blood. Your horrifying contrapasso unravels in his text, and you are powerless to defy it.
Fauna
Listing Siku the White Wolf - Siku lives above the arctic rim, her pure white coat warming her against the bitter cold and disguising her as she hunts. Her prey never sees her until the last moment - just two orbs of glacial ice in the snow.
Chance Item
Additional info
Edit
The Super Prize 2011 does not feature any original or recurring character. It is an end of the year Chance Item.
SDPlus #006 Artist Ivan has a pose that shows Ivan has painted a portrait of Mr. Bibbles, his Persian cat.
Mystical Mender is a recolor of the Magical Mender released from the LeXBox, the Virgil's Sinister Verdict is a recolor of the Dante's Divine Verdict released from the Hell Prison, and Siku the White Wolf is similar to Lobo the Gray Wolf also from the Hell Prison CI.
Trivia about items
Edit
The item named:
Related items
Edit
Listing Super Prize 2011 Bundle (9 pack) - Includes 9 Super Prizes 2011, giving you 9 chances to win great items.
Announcements
Edit
 -
 -