This is a Chance Item container.
Super Prize 2010
Description: Open for a chance at one of 2010's past boxes, or a special exclusive item!
Price: 299 Cash
Store: La Victoire
Gender: Any
Date first appeared on Gaia: December 24, 2010
Actions: Marketplace Item Information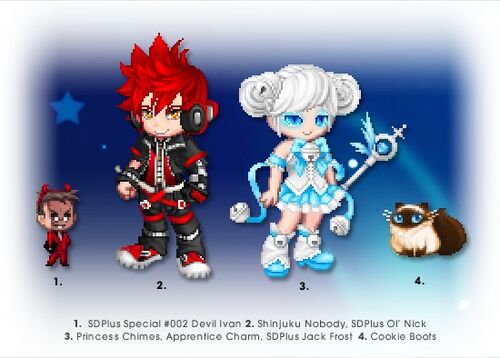 How it's played
Edit
When a player purchases a Super Prize 2010, they can open the container to receive an item.
Items from Super Prize 2010
Edit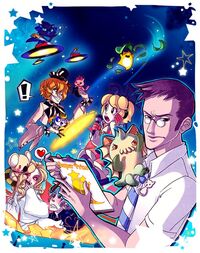 Listing SDPlus Special#002 Devil Ivan - A special SDPlus celebrating a year of random boxes! Only available through the Super Prize 2010.
Apparel
Listing Princess Chimes - Do you know where royalty can buy more bells? They help to power up my special moves.
Listing Shinjuku Nobody - Sea salt ice cream and friends. What more could anybody want?
Fauna
Listing Cookie Boots - Cookie Boots enjoys salmon sashimi, empty paper bags, and sketch comedy shows.
Chance Item
Listing Snow Apple - The Snow Apple is a rare fruit, a green sour apple which, if touched by a winter frost, becomes sweet and rosy. They say that the core contains treasures, and eating the blushing fruit will fill your head with visions...
Additional info
Edit
The Super Prize 2010 does not feature any original or recurring character. It is an end of the year Chance Item.
Announced by Ivan. The SDPlus for this is based on his appearance from the Hell Prison CI. (see) Hell Prison, GRS Accountant
Cookie Boots, is similar to Mr. Bibbles, who was released from Dark Reflection. The Shinjuku Nobody is a recolor of the Shibuya Nobody released from the LeXBox, and the Princess Chimes is a recolor of the Lady Chimes released from Code Alpha.
Related items
Edit
Listing Super Prize 2010 Bundle (9 pack) - Includes 9 Super Prizes, giving you 9 chances to win great items.
Announcements
Edit
 -
 -