This is a Chance Item container.
Snow Apple

Description: The Snow Apple is a rare fruit, a green sour apple which, if touched by a winter frost, becomes sweet and rosy. They say that the core contains treasures, and eating the blushing fruit will fill your head with visions...
Price: 149 Cash
Store: La Victoire
Gender: Any
Date first appeared on Gaia: December 18, 2009
Actions: Marketplace Item Information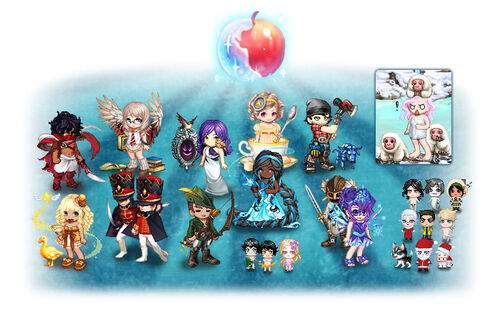 Landing page
Edit
Snow Apple
One bite of the Snow Apple will fill your eyes with fairytale visions: you'll be whisked away to a time long ago, when an icy queen gazed into an enchanted mirror for a constant ego-boost; as long as she was still the fairest in the land, she was content. But one day, a beautiful young servant named Snow White challenged the queen's beauty, and things began to take a grim turn...
A Magical Tale
The Snow apple will guide you through a waking dream. You can forfeit early for sure shot at a great item, or press on for an even more amazing reward.
Legendary Prizes
No matter how deep into the story you get, you'll walk away with a great prize: valuable items, Cash Shop favorites, and an amazing selection of brand-new exclusives:
How it's played
Edit
When a player purchases a Snow Apple, they can open the container to receive an item. They would follow the story of Snow White by clicking "Begin" and as they continue there would be a Chapter; the option to "Forfeit" or "Continue" is presented.
When a player chooses to stop playing they'd receive a random item, depending on the chapter. If they continue they would have the chance to continue to the next level and possibly the ending and getting a really good item or failing and getting a bad item.
Items from Snow Apple
Edit
Apparel and Accessories
Accessories
Accessories Misc
Handheld
Fauna
Additional info
Edit
Trivia about items
Edit
Due to many of the items being quite obvious in origin, only a few are listed for this section.
The item named:
Related items
Edit
Announcements
Edit
Ad blocker interference detected!
Wikia is a free-to-use site that makes money from advertising. We have a modified experience for viewers using ad blockers

Wikia is not accessible if you've made further modifications. Remove the custom ad blocker rule(s) and the page will load as expected.