Item:Runic Challenge
Talk

0
2,208pages on
this wiki


The Runic Challenge is a Chance Item released on July 11, 2012. It was removed on August 6, 2012, from the La Victoire. However, it is available for purchase from other users via trades or the marketplace. from the La Victoire. However, it is available for purchase from other users via trades or the marketplace.
Runic Challenge

Description:
Price: 149 Gaia Cash
Store: La Victoire
Gender: Any
Date first appeared on Gaia: July 2012
Runic Challenge Bundle (9 pack)
Description:
Price: 999 Gaia Cash
Store: La Victoire
Gender: Any
Date first appeared on Gaia: July 2012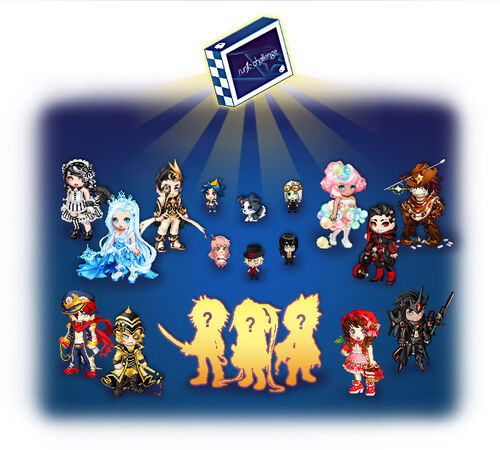 About
Landing page
Runic Challenge
Brennivin, Kanoko and Radio Jack are spending a stormy evening below the decks of Dernier Cri playing a magical board game, but things have gotten a bit out of hand...
Would You Like to Play a Game?
The gang is trapped inside the magical board game of Runic Challenge! Help them win, they're depending on you!
Collect Your Reward
If you can manage to help them beat the game, you'll get something incredible in return. It could be a Cash Shop favorite, a valuable rarity, or one of these new exclusives:
But that's not all - if you're lucky, you could get brand new, super secret exclusives items not pictured here!
How it's played
When a player purchases a Runic Challenge, they ...
There is level gaining with this CI. / There is no level gaining with this CI.
Items from Runic Challenge
SDPlus #396 Sweet Streets - So sweet she may give you a cavity~
SDPlus #397 Money & Honeys Liam - Rest assured, the term "honeys", while somewhat pejorative, is gender neutral and can be applied to the gender of your choice, broski.
SDPlus #398 Dead Giveaway Louie - Whodunnit?!
SDPlus #399 Biopsy Stein - Time for your biopsy! (:<
SDPlus #400 Wager of War Sam - Y-you sunk my battleship?!
Apparel with Accessories:
Card Sharks - Beware of this smooth player! He'll take a bite out of your winnings.
Chequered Punk - There's no holding you back as you jump over your enemies, taking them down one by one until you're king of the board.
Confidential Mustard - In the Billard's Room with his pipe.
Domina's Fall - Lined up so proper, she couldn't resist but watch them fall one after another.
Go Goldfish - Boop boop dit-tem dat-tem what-tem Chu! And she danced and she danced all over the dancefloor!
Icy Inuit - You know what they say about those that play on thin ice..
Knotty - Let's find out who's more flexible~ ♥
Lovely Lovely Lady - Give yourself the royal treatment!
Marble Bubbles - These marbles aren't made out of glass!
Mazarine Musketeer - You might not fight like one... But you sure can look the part!
Modern Mage - Pon mage pon pon pon!
Mystery White - The maid hasn't been doing her job. Why, fish have been left in every room!
Peppy Mint - Always energetic and in high spirits, one must wonder if it's safe for him to carry around an axe. Smiling and singing and.. swinging.....
Petit Cerise Fille - Heigh-ho the cherry-oh~
Planchette Communicator - Seven devils all around you. Holy water cannot help you now, a thousand armies couldn't keep them out. Only I can.
Pow - Who will rule the Old West? Will it be you the sheriff or the outlaws?
Reversi Tragedy - Think long and hard before making a move. Trying to turn things in your favor may very well lead to your demise instead.
Star Pointer - Play fast, lose fast.
Sweet Frosting - A queen so sweet she'll put you into a diabetic shock.
Wally's Wardrobe - C'mon, how can you NOT spot someone looking THIS hip in a crowd?!
Twisted Sour Apple - She picks you for the worst reasons...
Twisted Sweet Apple - She picks you for the silliest reasons...
Accessories:
Acey Deucey - Roll the dice! Pay the price!
Azure Flyer - Feeling a change, in the air.
Crimson Flyer - I'm feeling it, I'm feeling a change.
Olive Flyer - I'm feeling it, in the air.
Captain Bismarck - You'll never sink me!
Charming Bowler - Keep it rolling!
Noughts and Crosses - .. plus chains
Questionable Beards - Hmm.. /strokes beard
Space Wreck - You have been tasked with searching for and retrieving valuable pieces of archaeotech from a recently spotted space wreck, are you a bad enough dude?
Trivia Master - All the plastic wedges are MINE.
Unapologetic Sorry - Sorry, you were in my way.
Accessories Misc:
Advancing Gambit - One must not foolishly rush in lest they suffer the loss.
Grotesque Operatives - Fix me up, doc!
Overly Complicated Trap - Reuben Goldberg would be proud.
Companion:
My Friend Pippy - You'll never have an imaginary friend this dedicated!
Animal:
Bingo the Border Collie - B-I-N-G-O. Bingo wants to play-o!
Cask of Tamarins - A whole barrel of monkeys, what could possibly go wrong with that?
Pink the Elephant and Friends - Come help this baby elephant catch some new friends!
Pinky Piglet - Cute, compact and ..somewhat lightweight (sweatdrop), this piglet is the best little finder when you're in a pinch! Just don't accidentally drop it.
Scenery:
Hanafuda - It's no game, it's a sport. Games are for people who don't care enough. In sports, you compete to win.
Mister Moneybags - Go directly to jail. Do not pass Go. Do not collect 200 gold.
Risky Crusade - In battle it is the cowards who run the most risk; bravery is a rampart of defense.
Settlers of Gaia - Settle for nothing less than everything. Don't play fair or you won't survive!
Wealthiest Player - I will allow you to be slapped with this fan of board game money.
Variant:
NAME of CI variant - DESC
Trivia
Trivia about items
The item named:
Gallery
External links
"
As should be immediately apparent just by looking at me, I played a lot of board games as a teenager. Just me, a few friends, a couple cases of highly-caffeinated soda and canned cake frosting, and my well-worn copy of Warriors of Wulgus, the most complicated board game ever devised. I tell ya, those fourteen-hour play sessions and intense number crunching left me well prepared for a future of cranking out all-night audits. Great times.

Over at Dernier Cri, Gaia's famous floating luxury ship-shop, Brennivin and crew have been getting into the gaming spirit. A summer storm had everyone cooped up below decks, so Brennivin decided to amuse Kanoko and Radio Jack with a magical board game called the Runic Challenge-- but things got a little too magical, and now they've been trapped in the game world!

If you can help them beat the game, you'll wind up with an incredible item. It could be a Cash Shop favorite, a valuable rarity or one of these brand new exclusives:


Grab a Runic Challenge for your chance at a fantastic reward, or grab a bundle for even more stabs at board game glory.

Enter the Runic Challenge

"