This is a Chance Item container.
Perfect Tragedy
Description: The struggling playwright William has devised his master work, Perfect Tragedy! Try making your way through the whole performance (some of which seems strangely familiar...) uninterrupted, or exit the play anywhere along the way for an item. If you get lucky, you could win the ultimate prize: fame and fortune!
Price: 149 Cash
Store: La Victoire
Gender: Any
Date first appeared on Gaia: April 20, 2010
Actions: Marketplace Item Information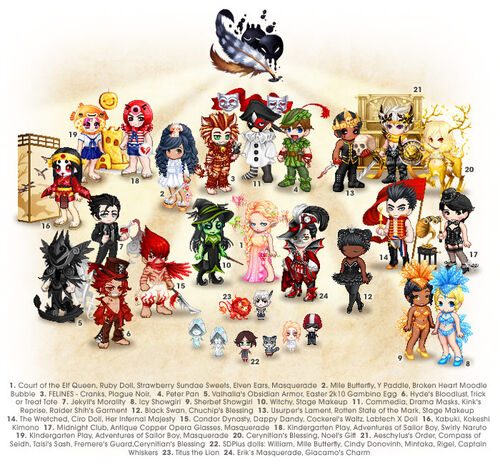 Landing page
Edit
Perfect Tragedy
William, an ambitious young actor and playwright, yearns to craft the ultimate work of drama. There's just one problem: William has a tendency to borrow rather liberally from famous shows, swiping bits of opera, Broadway, ballet and the Bard. Can you guide our hero from the page to the stage to critical raves without theft being exposed?
Hot Thespian Action
Guide William through six exciting acts of epic drama. The further you push it, the greater your chance of claiming an incredible item.
Critically Acclaimed Rewards
Each Perfect Tragedy will end in a fantastic item: it might be a Cash Shop favorite, a valuable rarity or one of these exciting new exclusives.
How it's played
Edit
When a player purchases a Perfect Tragedy, they can open the container to receive an item. They would be introduced to a character named William, who wants to create a masterpiece play. While attending the play, viewers could "Exit" at a Stage in the player or "Proceed" and try to view the play till the end. At any point the play could be stopped and result in a fail.
Items from Perfect Tragedy
Edit
Apparel and Accessories
Accessories
Accessories Misc
Listing Cerynitian's Blessing - A gift of transformation from a mysterious, elegant forest dweller...
Handheld
Listing Antique Copper Opera Glasses - Granny says she needs her glasses to see the actors on stage better, but why does she keep looking at that young man in the balcony across from us?
Listing Antique Nickel Opera Glasses - Granny says she needs her glasses to see the actors on stage better, but why does she keep looking at that young man in the balcony across from us?
Companion
Listing Rotten State of the Mark - A tale of tragedy seasoned with revenge, flavored with madness and topped with death.
Listing Usurper's Lament - A dark and bloody tale, of a man who falls from grace as his soul is eaten away by the teeth of betrayal.
Fauna
Listing Titus the Lion - The cub of the legendary flame beast.
Scenery
Additional info
Edit
The Perfect Tragedy features Gaia NPC: Sir William, Butterfly (goddess of faeries), Captain Whiskers, Lady Cosette, and Aeschylus. See also: Chance Item NPC.
The CI had a theater theme.
Trivia about items
Edit
The item named:
Black Swan, can be seen as a counterpart to the Swan Dress seen in the Noel's Gift EI, and is inspired by Tchaikovsky's Swan Lake.
Cerynitian's Blessing, is based on Blessing's found in the Emerald Seed CI.
Commedia, is based on Italian clowns seen in the 1800's, such as Pagliacci, as well as the Italian Theatre form Commedia del Arte.
Court of the Elf Queen, is likely influenced by William Shakespeare's Titania from the "A Midsummer Night's Dream" play.
Erik's Masquerade. is based on the outfit worn by the Phantom of the Opera (whose name in Gaston Leroux's novel off of which the musical is based is Erik) in the Masquerade scene.
FELINES, is based on the Broadway musical "CATS".
Grand Drape, is based on curtain poses seen in the Reve Rouille EI.
Hyde's Bloodlust and Jekyll's Morality, were based on Strange Case of Dr Jekyll and Mr Hyde, an 1886 novella by Robert Louis Stevenson and the Broadway musical 'Jekyll and Hyde'.
Peter Pan, is based on Peter Pan, a character created by Scottish novelist and playwright J. M. Barrie, also a musical.
Rotten State of the Mark, is based on William Shakespeare's play Hamlet.
Witchy, is a tribute to the Broadway musical Wicked.
The Wretched, is based on Les Misérables, the book by Victor Hugo that was turned into a Broadway musical.
SDPlus #015 Cindy Donovinh, contains her news partner Mike.
Related items
Edit
Appearances
Edit
Butterfly - Perfect Tragedy Apr'10, Radio Havok May'12
Sir William - Perfect Tragedy Apr'10, Arcana Break Apr'11
Announcements
Edit
Ad blocker interference detected!
Wikia is a free-to-use site that makes money from advertising. We have a modified experience for viewers using ad blockers

Wikia is not accessible if you've made further modifications. Remove the custom ad blocker rule(s) and the page will load as expected.