This is a Chance Item container.
Cirque du Gothique

Description: Summer has ended, and Cirque du Gothique is in town!
Price: 149 Cash
Store: La Victoire
Gender: Any
Date first appeared on Gaia: September 17, 2010
Actions: Marketplace Item Information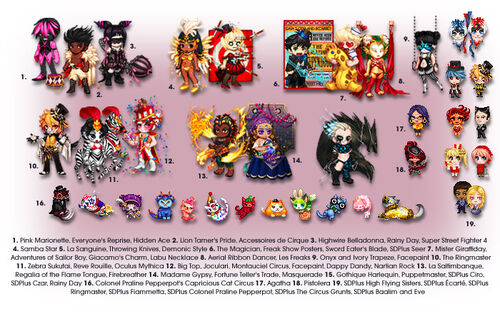 Landing page
Edit
Cirque Du Gothique
Welcome to my circus... don't mind the bodies, I swear I found them that way. Let me introduce myself: I am Ringmaster, the captain of this mad troupe. Won't you join our traveling chaos?
Step Right Up
There are eight mentors who will help you find a job suited to your talents. Which mentor you get is in the shaky hands of fate, and some are very selective. If you answer their questions wrong, you'll still collect a reward-- you just won't be that star of the show.
Everyone's A Winner
I never send a performer away empty-handed. Even if your act falls flat, I'll make it worth your time with a Cash Shop favorite, valuable rarity or exclusive item from my personal collection.
How it's played
Edit
When a player purchases a Cirque du Gothique, they can open the container to receive an item. They meet with the Ringmaster, and by pressing "Enter", he would direct the player to a trainer. They will then be asked questions by the trainer and have to answer questions correctly, the wrong response would cause them to fail and receive a item from that trainer that was considered a failure.
Items from Cirque du Gothique
Edit
Apparel and Accessories
Accessories
Listing Gothique Harlequin - Clowns? Creepy? I can't imagine what you're talking about
Listing Les Freaks - Eerie couture fashion inspired by sideshow oddities...
Listing Maquillage - No costume is complete without its proper finishing touches.
Accessories Misc
Handheld
Companion
Listing Puppet Master - The shadows dance with a twitch of a finger and the tug of a string. This is the power of the Puppet Master.
Fauna
Scenery
Additional info
Edit
The Cirque du Gothique features Gaia NPC: Ringmaster, Acrobat, Catcircus, Clown, Daredevil, Firebreather, Freakshow, Illusionist, Puppeteer. See also: Chance Item NPC.
The theme of this CI was heavy influenced by traveling carnivals/circus'.
In April 2011 the circus made a return with a fortuneteller named Velvetine, during the Arcana Break.
Trivia about items
Edit
The item named:
Related items
Edit
Appearances
Edit
Buttons - Cirque du Gothique Sep'10, Love Charm III Feb'12, Carnival du Gothique Jul'13
Cordis - Cirque du Gothique Sep'10, Love Charm II Feb'11, Dark Reflection 2 Oct'12, Carnival du Gothique Jul'13
Écarté - Cirque du Gothique Sep'10, Carnival du Gothique'13, (see also) Hidden Ace appearances.
Gunpowder - Cirque du Gothique Sep'10, Carnival du Gothique Jul'13
Monsieur Loyal - Cirque du Gothique Sep'10, Famestar Masquerade Oct'11, Dark Reflection 2 Oct'12, Carnival du Gothique Jul'13
Pepperpot - Cirque du Gothique Sep'10, Love Charm III Feb'12
(see) Arcana Break in 2011 and Carnival du Gothique in 2013
Announcements
Edit
 -