Item:Celebrity Date
Talk

0
2,210pages on
this wiki

The Celebrity Date is a Monthly Collectible released on February 2007. The other items released for this month are the Celestial Wrap and the Dark Star.
Celebrity Date
Description: You've won a date with a castmember of All My Gaians, the most popular television show on Gaia! Which cast member will you choose?
Price: This item has no specific price
Store: Not available in stores
Gender: Any
Date first appeared on Gaia: February 2007
Actions: Marketplace Item Information

Tektek listing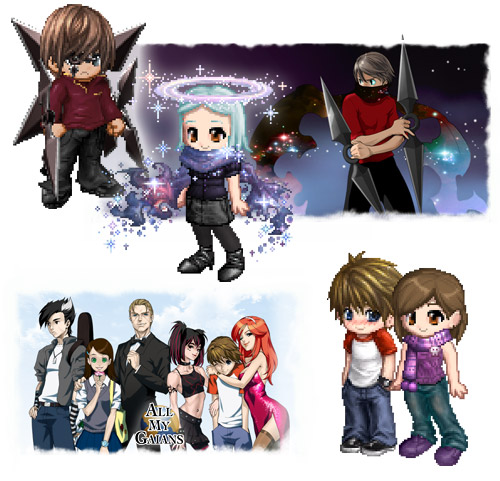 Promo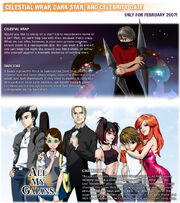 Celebrity Date
The cast of Gaia's most popular TV soap opera, All My Gaians recently opened a contest that lets you spend time with the cast member of your choice... and you won! There are so many choices: the suave Rick Lond, the gorgeous Adriana, the mysterious Ren, the sweet and shy Nick, the vivacious Ines or the super-hip Yuki. Whether you're looking for a new best friends or a little bit of romance, the Celebrity Date is your dream come true.
Positions
Celebrity Date
Celebrity Date - Ren
Celebrity Date - Lond

Celebrity Date - Ines
Celebrity Date - Adriana
Celebrity Date - Yuki
History
This is the first item on Gaia to have a "Companion" pose. The Celebrity Date was not well received when it was released and it took quite some time for the companion items to become popular, as the years went on- items with companion poses have increased and have become more acceptable and even requested.
Celebrity profiles
About the six cast-members of "All My Gaians"
Rick Lond - The suave and sophisticated Rick Lond regularly wins small fortunes at the baccarat tables... but don't let him gamble with your heart!
Blond haired man wearing a tuxedo.
Nick - Nick is shy and sweet, but his boyish charm has melted a few hearts! He's always been a bit pale and sickly, but he's also happy and vibrant when he comes out of his shell.
Brown haired young man who blushes.
Ren - Ren's sensitivity is hidden behind a chilly, enigmatic exterior. He may seem distant, but it's only because he spends every waking moment thinking about his music. If only you could make him care about you as much as he cares about his guitar...
Black haired young man with white highlights.
Adriana - Although Adriana is half an inch too short to find fame as a runway model, she has no problem satisfying her expensive taste. The richest men on Gaia trip over themselves to keep her in the finest furs.
Orange haired woman wearing a pink shimmering dress.
Ines - She's Ren's bandmate. Their music clicks perfectly, but their personalities couldn't be more different. She's outgoing, talkative and a little bit rowdy! Don't try anything funny, or you might wind up with a bloody nose.
Black haired young woman with pink highlights.
Yuki - Don't let Yuki's uniform fool you--she never blends into the crowd. She may be stuck in a lame boarding school, but she's a true hipster at heart.
Brown haired young school girl.
Appearances
Chance Item
February 15, 2007 - All My Gaians
The characters are from a TV series called "All My Gaians".
February 24, 2009 - FAMESTAR 2000
Round 1: Dancing Contest - Glamorous Adriana and Round 3: Rock-out Contests - Nervegas Crisis
June 22, 2010 - Famestar Hero
The return of Nervegas Crisis, who attempts to save the world from alien invaders called the Vylons.
Related items
Premium Item
Chance Item
You Lost! - from Adriana → FAMESTAR 2000
You Lost! - Nervegas Crisis → FAMESTAR 2000 Ticket (Round 3) : Nervegas Crisis
Famestar Hero Victory: Nervegas Crisis
SDPlus
057 Nervegas Crisis → FAMESTAR 2000
085 Adriana Doll ↵
088 Ren Doll ↵
086 Lond → Love Charm II
087 Nick ↵
089 Yuki ↵
090 Ines ↵
Gallery
February pose display
Ines, as featured in Famestar Hero
Adriana, as featured in FAMESTAR 2000
Ines, as featured in FAMESTAR 2000
See also
External links
Posted: Thu Feb 15, 2007 2:38 pm
Oh-boy-oh-boy-oh-boy!!! It's the 15th! Time for neat stuff! 4laugh The admins asked me to show you this note:

----------------------------

This month, you can choose from three great items: the Celestial Wrap, the Dark Star, and the amazing Celebrity Date!

Do you ever stare up at that majestical roof fretted with golden fire and think "hey, I want one"? Well, now we offer the Celestial Wrap, a gorgeous set of items inspired by the limitless night sky.

The Dark Star shuriken is a fearsome instrument of combat when held in the right hands. In the wrong hands, however, it's a recipe for an extremely painful disaster.

Oh my goodness, you've won a date with one of Gaia's hottest celebrities! The Celebrity Date lets you spend a day (or a lifetime) with one of the stars of All My Gaians, the hottest soap opera on television.

Click here to score these items for yourself! Remember, you've only got fifteen days to get 'em, then they're gone for good. Alas!

----------------------------

HINTMANIA: Read the following explanations of last week's hints to laugh at yourself for guessing totally wrong!

What's the best possible thing a person can get on Valentine's Day? (Hey! Keep your mind out of the gutter!)
A date! We're offering you a digital date with Gaia's hottest celebrities, just in time for Valentine's Day (by "just in time" I mean "one day late" . Ideally, a date in real life would be way better, but we're not wizards.

What's a verb that could describe the act of eating a dozen cheeseburgers in a single sitting? (Don't worry... this one has nothing to do with Valentine's Day.)
Scarf! As in "to scarf." You'll notice that one of the Celestial Wrap's poses is a scarf. You'll also notice that you've got a ketchup stain on your bib.

What do Beck, Suede, the Grateful Dead and Crosby Stills & Nash have in common (aside from the obvious)?
They all have songs called "Dark Star." Hey, one of the items is a Dark Star! Coincidence!? Yes. For reference, the Suede song, "My Dark Star," is the best one.

What's something that's all around you, even though you usually think of it as being above you?
Space! The cosmos! The vaulted expanse of the heavens! The brave o'erhanging firmament! One of the items is the Celestial Wrap, which is quite spacey.

What kind of a person is so cool that even Vanilla Ice couldn't diminish their awesomeness?
A ninja! Even after Vanilla's extremely embarrassing "Ninja Rap!" turn in Teenage Mutant Ninja Turtles II: The Secret of the Ooze, ninjas did not fade from popularity. Or from awesomeness.

(See also) Monthly Collectible hints