The Happenstance Romance is a Edwardian era-theme set released on August 23, 2012, it is purchasable only with Gaia Cash or from other users via trades or the marketplace.
Happenstance Romance Bundle

Description: Includes Dainty Damsel, Sweetheart Sweeper, Patches the Pup, and the exclusive Quaint Neighborhood.
Price: 999 Gaia Cash
Store: La Victoire
Gender: Any
Date first appeared on Gaia:
August
2012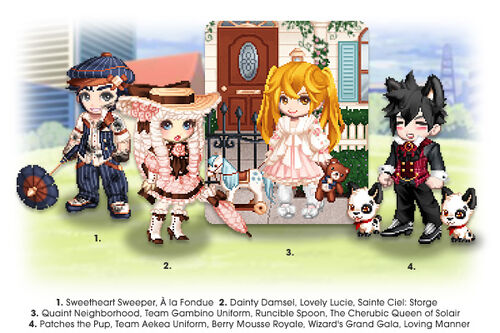 Happenstance Romance Bundle
Dainty Damsel - Such a precocious and charming young lady~ (499 Gaia Cash)
Sweetheart Sweeper - Fanciest darn chimney sweep in town! (499 Gaia Cash)
Patches the Pup - Such a scruffy little bugger...but he's so cute! (199 Gaia Cash)
External links
Edit
"
Good afternoon, Gaians! Mintaka and I are putting the finishing touches on a new series of items and a bundle that evoke that incomparable phenomenon of happenstance romance in the Edwardian era-- in fact, we're calling it the Happenstance Romance Bundle! And naturally, when you grab the whole series of items in bundle form, you'll also receive a lovely new exclusive. Take a look!


Dainty Damsel is well known for her fashion-forward looks and captivating personality. Capture her sweet and sassy apearance with a cute pink dress, lace and flower embellished hat, lovely cream locks, high heeled spats, delicate rose neck bow, parasol, and saucy undergarments.

Despite his occupation, Sweetheart Sweeper makes all the lovely ladies swoon with his dashing appearance and charming personality. Sweep a girl off her feet with a gold and bronze detailed cap, casually buttoned-up vest and shirt, striped slacks, edgy soot stains, cobalt hair, spatted boots, and personalized chimney sweep!

Patches the Pup is sure to be your most loyal pal! Teach your spunky little bugger a myriad of tricks and match him with an adorable set of plush ears!

Get all three of the above items at once by purchasing the Happenstance Romance Bundle and you'll get the exclusive Quaint Neighborhood! It is such a cute little place to live. Take your favorite toys out on the town, with a choice of either an antique horse on wheels, a polished Penny Farthing, or your beloved teddy bears!


Come by La Victoire and have a look, we think you'll fall in love!

"
 
Ad blocker interference detected!
Wikia is a free-to-use site that makes money from advertising. We have a modified experience for viewers using ad blockers

Wikia is not accessible if you've made further modifications. Remove the custom ad blocker rule(s) and the page will load as expected.