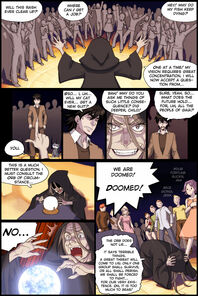 Halloween 2k8: Halloween Hysteria happened on the month of October, 2008. This event allowed gaians to become the races that they support. The four races are: Human, Dark Elf, Vampire, and Zombie, Each race can fight each the others, and unique rewards are given depending on the race that you chose.
The event went on from October 23 ti 31st 
Event Beginning
Edit
Announcements
Halloween Hysteria: October 23rd-31st +  New Items!
Our favorite holiday is coming up soon! No, not Lung Health Day (Oct. 24th), Reptile Awareness Day (Oct. 11th) or World Menopause Day (Oct. 18th)-- we're talking about the greatest holiday of them all, the grandest Gaia event, the day you've all been waiting for... Reptile Awareness Day! Wait, 
Halloween Hysteria Starts Now!
Miss Fortune brings bad omens...
Conclusion to Miss Fortune's bad omens.
Chose a group to join, be it human, zombie, vampire or dark elf and attack other groups on the forum or heal your own group on your headquater forum. 
Event Conclusion
Edit
Announcements
Halloween Hysteria is Nearly Over!
Halloween Hysteria: Read the Second Manga Now!
Event Items
Edit
Trick of Treat
Edit
Dark Elves
Edit
Glitches & Problems
Edit
From Adim: A number of people were running into a bug that prevented them from getting into the event. We ironed that out yesterday, so please give it another shot if you haven't already.
A notice was add onto the HAlloween Hysteria Starts Now! from admin:
A note about event skins:
Worried about losing your skin from an old event (old-school zombie, Grombie, Zurg, etc)? Have no fear—you'll automatically be given a new skin when you join a team, but switching back to "human" will return you to your original skin, whatever it was. Feel free to try out all the teams; you won't lose the skin you've worked so hard to keep.
From Ina's announcement HAlloween Hysteria Starts Now!:
Creepy Phonograph , a new item in the Daily Chance cart. If you put it in your aquarium, it'll give you a new choice of music... you should definitely try it out.
The Creepy Phonograph would have turn all your fishes into skeletons 
Halloween items