Geringdingding Sale is a sale involving items that are obtainable through Chance Item containers and later stocked in the La Victoire, they can be purchasable using Gaia Cash.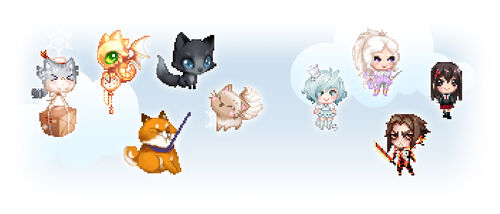 Fauna:
Announcement

January 23, 2014
External links
Edit
Announcement What does the fox sell? Find out at La Victoire! - [NPC] Jet & Cygnus Wed Jan 22, 2014 5:20 pm

So, okay. I've got something to say to everyone, so I need y'all to put on your listenin' caps and lean in real close. I've been hearing rumors around the water cooler that, apparently, people are very curious as to what foxes say. Inordinately so, in fact. Like, it's borderline unhealthy. I'm worried about your welfare, people. Have you ever actually listened to a fox? The noises they make! They're... they're unholy. Me and my buddy Sly, you know, we can be conversatin' on all cheerful like when suddenly he starts letting out these yowls and screams that are absolutely TERRIFYING. And no, they don't sound anything like "Gering-ding-ding-ding-dingeringeding! Wa-pa-pa-pa-pa-pa-pow! Hatee-hatee-hatee-ho! Joff-tchoff-tchoff-tchoffo-tchoffo-tchoff!" before you get any sort of crazy ideas. C'mon guys! That's just insulting to us fuzzy, adorable, four-legged mammals. I don't go around making silly sounds and shouting "WHAT DO THE GAIANS SAY" or whatever. But look, I'm a good guy. I like to think of myself as an educator. So hey, Sly is looking for a good home -- along with some of my other animal chums -- and so I figure, why not help you guys learn what noises foxes (and other animals) actually make? Also, I'm pretty sure Cygnus has some old dolls he probably doesn't want anymore, and I kind of want revenge on him for talkin' bad about me in his "art" posts, sooo... Let's see what we've got, shall we?


We'll be offering the following adorable pets for sale:

• Sly the Black Fox
• Kintaro the Shiba Inu
• Custard the Kitten
• Melchior the Meowl
• Cartier the Dragon


And these super collectible toys that I'm totally positive Cygnus won't miss! Probably.

• SDPlus #424 Renard
• SDPlus #099 Kanoko
• SDPlus #176 Thief
• SDPlus #251 Aiden
• SDPlus #418 Melody


Prepare yourself for a real symphony of animal noises, friends. Our neighbors are gonna absolutely hate us! It'll be totally awesome. Thankfully, they won't have to put up with the cacophony for long, since this sale ends January 24th, 11:59 PM EST. Drop by if you'd like! See you around!

Visit La Victoire!
Ad blocker interference detected!
Wikia is a free-to-use site that makes money from advertising. We have a modified experience for viewers using ad blockers

Wikia is not accessible if you've made further modifications. Remove the custom ad blocker rule(s) and the page will load as expected.