The Gate to the Afterlife is an Egyptian-theme set released on November 3, 2011
Gate to the Afterlife Bundle

Description: Includes Ankh of Aset, Anok Akori, King Tootie-Kamen the Chihuahua, and the exclusive Gift of Hathor.
Price: 999 Gaia Cash
Store: La Victoire (formerly)
Gender: Any
Date first appeared on Gaia: November 2011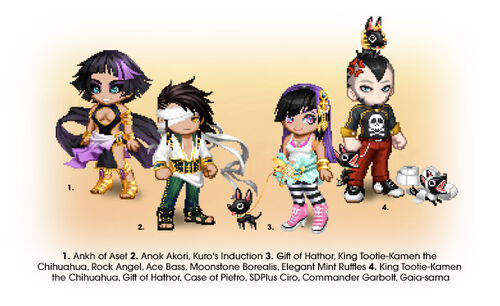 Gift of Hathor - Don't you know?! Egyptomania is so hot right now! (exclusive item)
Ankh of Aset - Beautifully flowing fabric is an eternal fashion statement. (499 Gaia Cash)
Anok Akori - Keep cool, stay hot and make a statement with an ancient fashion that lives evermore. (499 Gaia Cash)
King Tootie-Kamen the Chihuahua - BOW. BOW DOWN TO YOUR ROYAL HIGHNESS. >8( (199 Gaia Cash)
External links
Edit
"
Rigel and I are quite fascinated with the history of Gaia, and during our extensive research into the development of Gaian culture, we came across an ancient civilization full of mystery and magic. Inspired by the luxurious style of this culture, we offer you exotic treasures from a very distant past:

Ankh of Aset gives a feminine lavender touch to a striking dark outfit inspired by beautiful drapery and ancient fashion. Includes a wig, makeup, ankh-shaped dress, long flowing sleeves, sash, and golden sandals.

Anok Akori stays true to its ancient roots by use of beads, gems and heliographic accessories. Includes a belt, gold cuffed shirt, pants, sandals, wig and eye wrappings.

King Tootie-Kamen the Chihuahua is a rascal of a pup, Tootie makes sure to keep you on your toes! Includes pet with five poses and a lavish matching collar.

Those who pick up the Gate to the Afterlife Bundle will get all of the items listed above, plus the exclusive Gift of Hathor!

If any of these antique jewels tickle your fancy, then stop by the Cash Shop today!

"
 
Ad blocker interference detected!
Wikia is a free-to-use site that makes money from advertising. We have a modified experience for viewers using ad blockers

Wikia is not accessible if you've made further modifications. Remove the custom ad blocker rule(s) and the page will load as expected.