The following profile article is still a work in progress. For information on how to help, see the manual of style and discuss any issues in the forums. We apologize for the inconvenience this may cause in the meantime.

Work-in-progress profile pages are automatically sorted into this category.
---
Buki is an artist for Gaia Online, known for her work on Evolving Items, Chance Items, and other miscellaneous items. She announced in April 2010 that her work on creating items would cease and she would be helping fellow artists jenzee and gem2niki on manga and sponsorship art.
Works
External links
---
DrinkyTengu is an artist for Gaia Online who chiefly creates item sprites, mainly for evolving items. She has worked on more evolving items than any other artist. She is also known for her timely pixel completions and interests in Japanese folklore, she incorporates that interest into many of Gaia's items.
Works
Items
YHBT Hat
Kappa Plush
Tengu mask (first item DrinkyTengu created)
Kimono (Furisode)
Monk rosaries
Crow's Bill
New colors for Troll ears and tails
The Experiment (her own work, but the artist ijustworkhere gave her the idea to have a monster growing out of a test tube)
Dionaesil (although this was first made by o_8 and DrinkyTengu took over at the third stage following his designs)
Kachina Dancer's Wings
Yama no Tamago (Yama no Kami no Tamago, as confirmed on her profile)
Coocoon (started by another artist, but DrinkyTengu says she picked it up because no one else wanted to finish it)
Item:Imaginary Friend (unconfirmed)
External Links
---
ethe is an artist for Gaia Online.
Works
Items
Compass Of Seidh
Kitten Star
My Hunter Duo (Zeppelin & Ammo)
Lucky the Cat
Plague Noir
Tippy the Tapir
Faustine's Bottle
Happy Capsule
Star Suit Mascot
Twister the Pheonix
Keely the Whipped Creameranian
Smok the Baby Dragon
Twinkle the Space Goat
North Kitten Star
Chimi the Chihuahua
Depth of Hades
Dede the Husky
Nomy the Snail
Pudgie the Sparrow
SDPlus #99 Kanoko
SDPlus #88 Ren Doll
SDPlus#9Two Enchanted Duo Dolls
Kanoko's Frostee Sweets
Kanoko's Dark Reflection
Toscano's Jacket by Dernier*Cri
External links
---
Sarah Stone (aka Fayren Pickpocket) is an Illustrator and Sprite Artist at Gaia Online. According to her LinkedIn profile she is responsible for designing and creating clothing and items for Gaia Online avatars, as well as creating illustrations for events or item releases.
Works
Items
External Links
---
gem2niki is an artist for Gaia Online who works with sponsorship profiles, manga color flats, merchandise and some items. Also a Senior student majoring in Animation/ Illustration, who likes to draw, cg, design, and collect manga and artbooks.
Works
Items
Manga
Mini Comic

Summer Bummer
Promnomnom
Brains & Brawn
Events
Games
Merchandise
External links
---
Jeannie Lee, known as Juno, is an Artist on Gaia Online, starting as a freelancer for Gaia in December 2004/January 2005. Her responsibilities include monthly item updates and other sprite work, to Flash animation, and whatever else ends up on her plate. She is mostly known for handling layering issues and taking suggestions on the numerous hairstyles that are released in Salon Durem. She is quite fond of French wardrobes from the 1700-1800's and enjoys gardening.
One of her peeves is when people actively go around snooping, plugging in random parts of URL's in search of unreleased content. She feels it ruins it surprise for Gaians and Staff.
As of February 2, 2011 Juno has stepped down from being a Gaia Online staff member.
Notable Journal Entries
On April 12, 2006, she created a graphic to show support for VO and the Daffodil Movement. On September 12, 2006, she displayed some of the commission artwork that she does for anime conventions, a commissioner from one of the anime conventions she attended emailed and asked if she wanted a copy of the commissions she did for him. Juno wishes she had copies of all her commissions, just for documentation purposes, but she can't carry a scanner amongst the to a convention.
On September 19, 2006 she posted about her purchase of the Original Sound version of Final Fantasy VI (III US). In her personal opinion, she finds it to be the pinnacle of all 2D RPGs. On November 8, 2006, she posted about being interested in creating little charms and figurines, since she was browsing through DeviantArt
On December 18, 2006, she posted about constructive criticisms involving Gaians. She always takes time to read threads about MC's (and all items/hairstyles in general), with the hopes to find any insight about what people like/dislike, and why. Though, it's hard sometimes, because most negative responses to the items are either due to specific individual preference (which, unfortunately, can't be helped) or are much too extreme (ie, "I absolutely hate the donation items, they sux!!!" or etc.) to find any constructiveness in them. She really does wish there was a way for Gaia Staff to give all Gaians what they like, but sadly, they can't, so she gave a Thank you to those who understood.
Juno resigns
Goodbye, Gaia! Dear Gaians,
It is with an extremely heavy heart with which I write this journal entry.
After much deep thought and deliberation, I have decided to step down from the Gaia Online staff. This was a very difficult decision for me... I have been with Gaia for almost 6 years, and I have much love for the people I've worked with, as well as this community.
As I am still relatively young, I go forth to expand my horizons, gain more experiences, and grow as a professional and an artist working in the field that I love most.
For the past few years I have been directing users to report glitches to me directly. Now that I will no longer be taking care of glitches myself, I have left directions with my peers and staff to continue fixing issues. In the meantime, I do ask you all to start reporting your item issues here:
Avatar Item Glitch Report Thread
Any glitches that are left in my profile, journal entries, or sent to me via PM will not be received, so please make sure you report them to the right place!
I thank each and every one of you for 6 wonderful years together. I also ask that you continue to support Gaia just as you have been, and continue to improve Gaia and nurture it into greatness together with the wonderful staff who keep Gaia running and growing everyday. You are all such a unique and wonderful group of people, and I wish Gaia the best with all of my heart.
Much love to you all! icon_heart.gif
- Juno
Her work history
Manga (English version)[1]
Blade of Heaven (manhwa) : Production Artist
Dead End (manga) : Retouch & Lettering
Visitor (manhwa) : Retouch & Lettering
Trivia
Juno's name comes with a story. Back when she was 13-14, she used to be in a choir. There was another girl in the choir named Juno - she was really pretty, but unfortunately, her personality was not. Jeannie did like her name, however, as it was unique for a Korean girl to have a male name (as "Juno" is technically a male name in Korean) - so she took it as her own. Juno has been her online alias ever since.
External Links
---
Alex Ahad (aka o_8) is a former Gaia Online artists. He is director and creator of a side project called "Skullgirls". On July 9, 2010, Alex Ahad resigned from Gaia so he could spend more time working on Skullgirls.
Works
Items
Dionaesil (this was designed and initially made by o_8 up until the second stage but was then taken over by DrinkyTengu who followed his designs)
The Nightmare (He designed the 9th Stage)
Nice Style For Work
Princess Bird
Super Street Fighter IV Deejay's Pants (Chun-Li Pose)
Games
External Links
External Links
---
Mishiri is an artist for Gaia Online, who does sponsorship work and Aquarium decor. She has also made several items for Random Item Generators and is the artist for two EIs.
Works
Items
Gin The Kitty
Brandy
20 sided die
TTRPG Limited Ed. Manual
Cherry
Crepe
Neapolitian Sash
Raider Shih Garment
Pirate Sando Vest
External Links
Mishiri's journal - linked entry contains a list of items and projects she has worked on
---
pepper-tea is an artist for Gaia Online.
Works
Did the artwork for the Snow Apple RIG. pepper-tea is the one currently in charge of evolving items.
Items
External links
---
PRISM
---
Theresa "reapersun" Zysk was an artist for Gaia Online who created art for various parts of the site including items, manga and animations. She started off at Gaia working mainly on monster animation for zOMG!, and has since moved on to EIs, RIGs and event storyline, with more focus on planning than production work.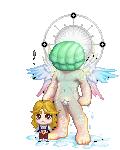 Works
Items
Grace of Eros and Grace of Anteros
Copper Twopence - Collaboration with pepper-tea
MANtis
Fondue the Chocolate Bunny
The Nightmare - first evolution
The Case of Pietro
Starmony
The Love Song
Manga
Trivia
It is rumoured that Reapersun is working on the Catastrophe due to a picture of The Case of Pietro on Reapersun's Deviantart account showing a small tail in one of the corners. It's also believed that it's a piece of robe, revealed in the pietro's case comic, that the thief used to make his escape.
External Links
---
Superphi is an artist who has created two items on Gaia: Fallen Wish and . Not very much is known about her.
External Links superphi's Gaia profile page
References
Edit
↑ Anime News Network: Jeannie LEE
Ad blocker interference detected!
Wikia is a free-to-use site that makes money from advertising. We have a modified experience for viewers using ad blockers

Wikia is not accessible if you've made further modifications. Remove the custom ad blocker rule(s) and the page will load as expected.