Johnny K. Gambino hosted the first annual Gaia Olympics on August 29 2004.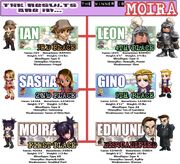 From each town, two NPCs were chosen to participate in the competition, which was a race from Isle de Gambino to Durem, and back again. From Gambino, Sasha and Gino participated. From Barton Town, Ian and Leon participated. From Durem, Moira and Edmund participated. Each character had their own weaknesses and strengths, and competition was tight. Many thought that Edmund, a swift and strong contestant, would win the race, but was unfortunately distracted by an attractive woman in Durem, and then disqualified in Barton when he decided to 'have fun' with Vanessa in the Personals building.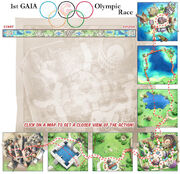 Sasha easily got lost at several points in the race, and Ian couldn't stop himself from taking advantage of good deals in the shops around Gaia. During the last half of the race, Gino disappeared into the water system by order of his father. Moira ended up taking the win, earning her the Gold Medal. Sasha ended up taking the Silver while Ian was stuck with the Bronze. Gino, who had been under severe pressure from his father to win, reappeared and finished the race dead last, much later than all of the other contestants that were still qualified, but still finishing. Edmund was disqualified for being unable to finish the race.
---
Ad blocker interference detected!
Wikia is a free-to-use site that makes money from advertising. We have a modified experience for viewers using ad blockers

Wikia is not accessible if you've made further modifications. Remove the custom ad blocker rule(s) and the page will load as expected.