The Celestial is a Atmosphere-theme set released on July 26, 2010

Description: Includes Celestial Array, Crescent Cowl, Cumulus, and the exclusive Tenshi Gaia-tan.
Price: 999 Gaia Cash
Store: La Victoire (formerly)
Gender: Any
Date first appeared on Gaia: July 2010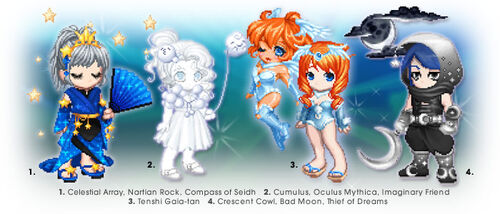 Gaia Ascended Bundle
Celestial Array - The starry fabric cost a small fortune but I love to look like the night sky. (499 Gaia Cash)
Crescent Cowl - The brightest in the night sky. Not exactly practical for sneaking and hunting in the night. (399 Gaia Cash)
Cumulus - *puff puff puff* / Being a cloud is HARD work! / *puff puff puff* (299 Gaia Cash)
This is the second time Gaia-tan was a purchasable companion from the Cash Shop. Gaia-tan is wearing the Angelic Set, an old set of items from 2003.
External links
Edit
"
After a harrowing journey through the skies, Mintaka and I have found some fantastic items from the cosmic beyond.

The Celestial Array, woven from the fabric of the stars, updates the vintage wizard look for a modern Gaian sensibility. Rigel likes how the stellar wrap and sleeves channel your celestial energy in style and comfort; I brought along the geta shoes, crown, and Eastern-style fan to add a cosmopolitan edge.

Speaking of edge, the Crescent Cowl hails from a distant and somewhat sinister corner of the universe stalked by the ferrymen of death. There they use the moon-shaped scythes to part the dead from their souls. The belt, gloves, boots and cowl have a gray lunar motif, like the cold planet where the ferrymen spend their lunch breaks.

Lastly, we got Cumulus from a gaseous planet covered in clouds. Mintaka thought this little guy was adorable, so I stuffed a bunch of them in a sack to bring back for you all. Turns out that Cumulus can also turn into a skirt or mini-cape, in addition to just hanging around being cute.

To get the total cosmic package, pick up Gaia Ascended Bundle with all three of the above items, plus the exclusive Tenshi Gaia-tan.

Space travel is a tricky business, so we'll only have these for two weeks. To get your own Celestial Array, Crescent Cowl, or Cumulus, head on over to the Gaia Cash Shop!

"
 
Ad blocker interference detected!
Wikia is a free-to-use site that makes money from advertising. We have a modified experience for viewers using ad blockers

Wikia is not accessible if you've made further modifications. Remove the custom ad blocker rule(s) and the page will load as expected.